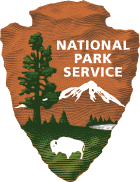 The Denali Park Road has closed for the winter at Mile 3 (Park Headquarters). Although the park has recently received additional snow, the snow cover is marginal for winter recreational activities such as snowshoeing, cross-country skiing, mushing, or ski-joring. In anticipation of more snow, the winter trailhead has been established at the headquarters gate, and parking for visitors is available in the adjacent lot.
The Murie Science and Learning Center (MSLC) is open daily from 9:00 am – 4:00 pm to provide park information and backcountry permits. The park is a designated federal fee area, and the $10 per person entrance fee (good for seven days) is collected at the MSLC during the winter. Interagency Federal Recreation Passes such as the Annual, Senior, and Access Pass, and the Denali Annual Pass are also valid for entry into the park and can be purchased at the MSLC.
The Bear Loop of the Riley Creek Campground at Mile 0.2 is open for camping, but has no water during the winter. A vault toilet is provided for campers, and water can be obtained at the MSLC. Gas, food service, and lodging are available year-round in the communities of Cantwell and Healy.
Visitors are advised to check for updated conditions and weather information. Park information is available at 907-683-9532 from 9:00 am – 4:00 pm daily or on the web at www.nps.gov/dena. Stay connected with "DenaliNPS" on Twitter, Facebook, YouTube, Flickr, and iTunes – links to these social media sites are found at www.nps.gov/dena.
Logo courtesy National Park Service