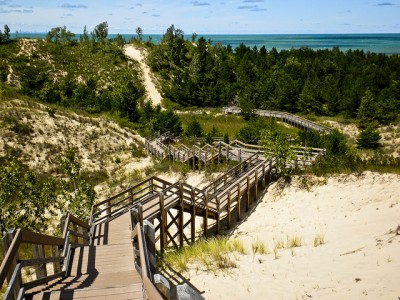 This November, more than 150 outdoor enthusiasts will meet at a conference to discuss the development of continuous trails along the full perimeter of Lake Michigan. The trails would accomodate bikes, hikers, kayaks and motor vehicles. The organizers hope to make this "a world-class touring destination as the nation's longest tri-modal loop corridor."
"The objective of this conference will be to establish a long distance recreational trail, similar in scope to the Appalachian Trail," said Dr. Dave Lemberg with Western Michigan University in a news release. The trails would span the entire shoreline of Lake Michigan in Indiana, Illinois, Wisconsin, and both the upper and lower peninsulas of Michigan.
The Lake Michigan Trail Conference will take place on November 8 and 9 in Saugatuck, Michigan. The Lake Michigan Water Trail Association lists more information about what this conference is all about:
Paddlers, planners, bikers, site owners and governments from the four states surrounding Lake Michigan will meet for two days to plan and develop what will be the longest, continuous loop, freshwater sea kayaking trail in the world!

Together with a continuous loop Bike Trail around the lake, and the existing Lake Michigan Great Circle Tour, the Water Trail will make this tri-modal loop a safer, more accessible and exciting 21st Century Trail.

Join us in the beautiful harbor town of Saugatuck, Michigan on November 8th & 9th to help create America's Greatest Lake Trail. Registration is free (thanks to grant support from Michigan Department of Environmental Quality Coastal Zone Management Program – includes two lunches and conference materials.
Registration for the conference is free thanks to the Michigan Department of Environmental Quality Coastal Zone Management Program, but it is limited to 150 people. Find the address, registration link and more information at lmwt.org.
Image from vxla on the flickr Creative Commons