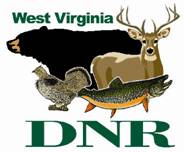 Aerial tram rides have resumed at Hawks Nest State Park following a temporary shutdown for repairs that began October 13 and ended October 20. Tram rides will continue until the end of the season, October 28. Tram operating hours are 11 a.m. – 4:45 p.m. weekdays (except Wednesdays, when the tram is closed) and 11 a.m. – 6:45 p.m. on Saturdays and Sundays. The aerial tram closes for the season from November through April.
The aerial tram departs from the Hawks Nest Lodge complex and descends into the New River Gorge, landing at the marina area. It is a 500-foot descent with a ride time of two minutes and forty-five seconds.
For information about Hawks Nest State Park, lodge, restaurant and activities, call 304-658-5212 or visit www.hawksnestsp.com.
Logo courtesy West Virginia Division of Natural Resources