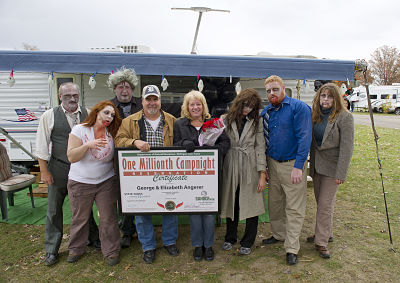 Michigan state parks and the Michigan Department of Natural Resources (DNR) recently celebrated an impressive accomplishment on October 19. That day the DNR's park system hosted the state's one millionth camp reservation for the year.
Public Information Officer for the DNR Ed Golder clarified that is a statistic of the number of nights campers book in state parks, no matter how many campers there are. "If I'm camping for five nights, it's five camp nights," Golder said.
This means that state parks have potentially been visited by more than one million people, but the statistic does not exclude repeat campers from the numbers nor does it include private and federal campgrounds.
The millionth reservation was booked by George W. and Elizabeth Angerer of Roseville, Michigan. They visited Algonac State Park's River Front Campground in St. Clair County. "I'm really excited to be the millionth reservation. This is how we spend our vacations," said George Angerer as quoted in a DNR press release. "We're working on visiting every state park in Michigan."
For their booking, the Angerers received a Pure Michigan prize package that included a free weekend of camping, a $100 gift certificate from Gander Mountain and Pure Michigan apparel when they arrived to their campsite.
From the aforementioned press release:
"Having our state parks reach 1 million camp nights – a milestone we have not hit since 2005 – reflects a healthy love of the outdoors and a healthy state parks system," said DNR Director Keith Creagh. "The milestone also reflects healthy communities, because we know the success of state parks gives a positive boost to local economies."

Michigan state parks have reported a strong surge in campground visitors this year with a 7-percent increase in advance reservations over the 2011 season.

Harold Herta, chief of Resource Management for the Parks and Recreation Division, credited the rise in camping to both positive economic factors and the DNR's fresh approach on outreach to state parks visitors.

"Many people looking to cut costs in their already-strained budgets have turned to the state parks as a way to stretch their vacation dollars," Herta said. "Most people go camping because a weeklong trip can cost under $300 – compared with $3,000 and up, for example, for a week at Disney."

Herta said camping in Michigan's state parks has become even more cost-friendly with the introduction of the DNR's Recreation Passport. The DNR has seen more residents looking for bargains opting to sign up for the annual $10 Passport when renewing their vehicle registration. The Passport, which in 2010 replaced the previous park stickers, was popular in 2011 and has seen 27 percent of Michigan residents checking "yes" for the Passport this year.

Herta also said the lower cost of gasoline earlier this summer prompted visitors to take their recreational vehicles on the road more often. Additionally, the DNR's newly expanded options in alternative lodging; the increase in its award-winning Recreation 101 programs that offer expert instruction on 50 different kinds of recreational activities; group events such as outdoor movie nights; and educational programs like August's Meteors & S'mores astronomy program have also increased the number of park visitors.

"When you visit Michigan's state parks and are surrounded with our forests, rivers, lakes and streams that have been here for thousands of years, it's hard to imagine that changes ever occur here," Olson said. "But the goal of our park system is to continually reinvent ourselves to suit this modern generation of campers while preserving all the natural elements they come here to experience. As the world gets more hectic, we think Michigan residents will continue to turn to their state parks as resources for rest and renewal."
Image courtesy of Michigan DNR