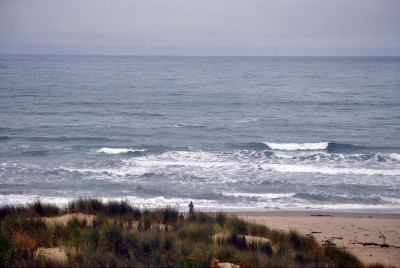 For the second time in two years on the same stretch of beach, a person has been killed by a shark while out on the water. On Tuesday, 39-year-old Francisco Javier Solorio Jr. of Orcutt, California, an experienced surfer, was surfing with a friend off Surf Beach. The beach is approximately 160 miles northwest of Los Angeles.
Around 11 a.m. Solorio Jr. was out on his surfboard when a shark took a fatal bite at his upper torso. Solorio Jr.'s friend witnessed the attack and helped pull his friend out of the water shortly afterward and performed CPR while medics were on their way. Solorio Jr. had sustained such severe injuries that his friend was not able to help and Solorio Jr. was declared dead at the scene when medics arrived.
Solorio Jr. was the father of a young child.
Shark attacks are rare which makes Solorio Jr.'s death very unusual since it happened almost two years to the day after another fatal attack on the same beach. On October 22, 2010, a 19-year-old University of California, Santa Barbara student Lucas Ransom was body-boarding when a shark nearly severed his leg at the very same beach.
Solorio Jr.'s death was the 13th fatal shark attack in California since 1952, according to the California Department of Fish and Game (soon-to-be the California Department of Fish and Wildlife).
All beaches along the coastline of the air force base will be closed for a mandatory 72 hours as a precaution.
Image from Steve Wilson (Loco Steve) on the flickr Creative Commons