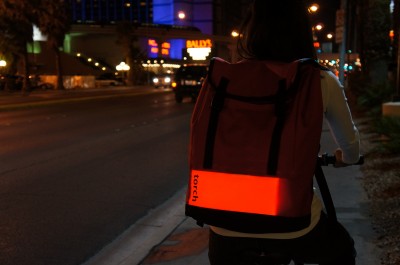 Torch, the manufacturer of a ground-breaking line of high-intensity LED cycling products, today announced that the FLUX Backpack is available for pre-order at www.TorchApparel.com.  Following the successful introduction of Torch's first product, the T1 Helmet—recipient of Outside Magazine's Gear of the Show Award at last month's InterBike Trade Show– the FLUX is the first backpack with an integrated fiber optic light panel.
Constructed with an exceptionally durable 1000-denier Cordura Plus nylon exterior and a waterproof tarpaulin liner, the FLUX has subtle styling for a clean day-time appearance coupled with projection LED technology to maximize visibility at night.  The fiber optics are flexible, waterproof, less than a millimeter thick and operated by a button on the shoulder strap, enabling the rider to switch between steady or flashing modes while on the go.
The high-intensity red LED panel is powered by button cell batteries, which have a four hour run time and can be recharged through a standard USB 2.0 charging port. The USB unit is completely removable from the bag for easy recharging, cleaning or replacement. In fact, the USB battery unit can be used as a stand-alone seat post light for rides that don't require a backpack.
"We are tremendously proud to open the pre-order for the FLUX Backpack," said Torch CEO and Designer Nathan Wills. "The positive feedback we received at InterBike last month reaffirms the need for a high-visibility backpack with stylish, all-weather detailing.  We're excited to get it into the hands of cyclists who can benefit from the technology on and off the road."
The FLUX, available in black or red with black trim, is available at an introductory price of $120 ($180 Suggested retail). This YouTube video depicts the bag in action: http://youtu.be/hX6lrqFsGUM
For more information on Torch, please visit: www.TorchApparel.com or visit http://www.facebook.com/torchapparel.
Image courtesy Outside PR/Torch