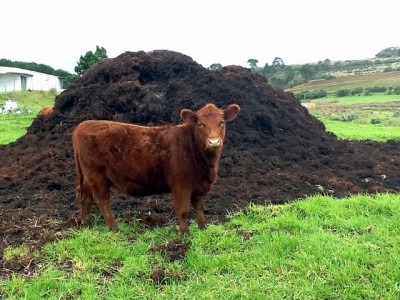 Manure power. The Killington Mountain Resort and Ski Area, one of the largest in New England, will be the first ski resort in Vermont to use electricity generated from manure to power its express ski lift this winter.
Killington's K-1 Express Gondola will be run by manure power, a relatively under-the-radar power source. The resort will gather the material through a renewable energy program operated by Green Mountain Power. Already, the manure of 10,000 cows of the state's 270,000 total cattle is generating five megawatts of energy under the "cow power" program.
The process of making energy from manure is an environmentally efficient use of what is normally just a waste product. As Reuters reports, "under the process, manure collected from barn floors during the day is mixed with wash water from milking equipment. Bacteria in an anaerobic digester then process the manure slurry into methane gas, which is burned to generate electricity. The program currently consumes 300,000 gallons of manure per day."
"For the resort, it's simple," Sarah Thorson, Killington communications manager, told ESPN. "We have the opportunity to support local farms and be more energy efficient. It's a win-win situation for us. For the farmers, it's pretty fantastic as well."
Waste seems to be the new trend in powering ski resorts. Earlier this year, an Arizona ski resort received permission to make fake snow from reclaimed sewage water.
Image from Ian Barbour (barbourians) on the flickr Creative Commons