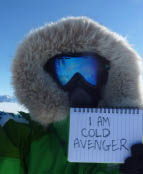 Talus Outdoor Technologies, LLC, maker of the ColdAvenger line of cold weather face masks, announces its launch of the "I Am ColdAvenger" grassroots consumer and athlete campaign. Global athletes, ambassadors and Talus customers have the opportunity to submit adventures to and share how, why and where they use their ColdAvenger face mask. Those who have never used a ColdAvenger are also invited to join and explain why they are fit to receive a ColdAvenger for their cold weather endeavors; whether for work, play or expeditions.
"We want to encourage the participation of all potential consumers and engage with our current community of users," says John Sullivan III, Chief Operating Officer of Talus Outdoor Technologies. "The ColdAvenger isn't just for crossing the Antarctic or leading a team through Greenland. It's about unique adventures in varied places with a huge cross-section people. Anyone can be a ColdAvenger and we want this platform to be a place to share everyone's stories—however varied they might be. The ColdAvenger is blazing trials in outdoor technology and health channels and we want to help showcase and communicate these amazing adventures and stories."
Customers and athletes are asked to snap photos of their ColdAvenger in use and make the visual statement, "I am ColdAvenger." The "I am ColdAvenger" statement can be hand-drawn in a variety of mediums, but clearly displayed and announcing the users' alliance with the brand and community of users.
Talus reviews each submission and will proceed with additional interviews, sponsorships and sharing of stories. Talus will also share submissions across all of its social media channels; Facebook, Twitter and Blog. This campaign was soft-launched last winter and tested first with its athlete roster and was met with success, therefore launching the nation-wide callout and program for winter 12/13.
To submit your I Am ColdAvenger adventure, please visit Talusoutdoortech.com or email Talus directly at [email protected]. All submissions will be considered with monthly winners chosen.
Image courtesy Talus Outdoor Technologies