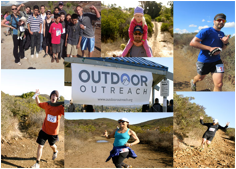 Chaos Headwear announces proud sponsorship of Outdoor Outreach's 2nd annual Reach the Peak: Trail Race & Mountain Festival, scheduled for Saturday, November 3rd, 2012 at Black Mountain Open Space Park & Hilltop Community Park in San Diego.
The goal of the event is twofold: first, to raise funds for Outdoor Outreach's programming and secondly to celebrate the outdoors. Outdoor Outreach aims at provide comprehensive outdoor programming that allows at-risk and underprivileged youth to make positive, lasting changes in their lives. In purchasing a ticket or fundraising for entry, participants will be helping the most at-risk kids in the San Diego area.
"There are a lot of races out there that emphasize reaching in, achieving a personal best, and beating out the competition," Outdoor Outreach Executive Director, Chris Rutgers says, "but this event is different. This event is about reaching out and celebrating a day in the outdoors."
The event offers participants a wide range of activities for every endurance level, including a four-mile trail run/walk, an endurance course, a mountain navigation and adventure option, and a one-mile family fun, obstacle route.Additionally, mountain biking and mountain dual-athlon categories have beenadded for 2012.
Post-race, everyone will celebrate at the event's mountain festival, which will include post-race yoga classes, a rock climbing wall, lunch, a beer garden, live music, and access to prizes and SWAG from event sponsors like Chaos, Mesa Rim Climbing & Fitness Center, REI and ZOIC.
To register click here: http://www.stayclassy.org/san-diego/events/2nd-annual-reach-peak-trail-race-mountain-festival-register/e17429.
To create a fundraising page head here: http://www.stayclassy.org/san-diego/events/2nd-annual-reach-peak-trail-race-mountain-festival-fundraise/e18881
For ticket information call 619-238-5790 or email [email protected]
Image courtesy Chaos Headwear