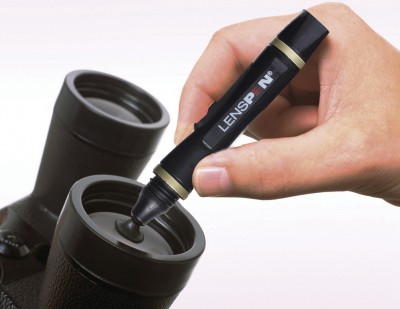 Fall is here, and that means more time outdoors – whether you're hiking a trail, tracking a buck or cheering your favorite team. Whatever your outdoor activity of choice, chances are you'll take your favorite camera, riflescope or binoculars with you so you don't miss any of the action. Don't let dust or fingerprints ruin your view!
For 20 years LensPen has been a necessity for cleaning dust and fingerprints from fine optics using a simple two-step procedure.
First, use the retractable natural brush to remove any loose dust. If fingerprints remain, twist the cap off on the other end and use the carbon-impregnated cleaning pad to completely clean the lens. The carbon compound used in LensPen products is similar to the one found in printer's ink, which is why newspapers remain an effective way to clean windows, mirrors and other glass surfaces.
The twist-action cap is a new feature introduced with the recent LensPen re-design. This new twist action is important for two reasons: it re-charges the carbon on the cleaning tip, and it ensures that the cap won't pop off. Other new LensPen features include a compact size and ergonomic design.
LensPen products are available at fine optics retailers, such as Amazon, Best Buy, Cabela's and others. Nikon Sport Optics offers several models of authentic LensPen products licensed under the Nikon name, including their Nikon LensPen Pro Kit, which includes new-design Original and MiniPro pens, MicroKlear and FogKlear cloths, that all fit in a convenient carrying pouch. Cabela's offers the classic style LensPen.
For more information on LensPen products, go to www.lenspen.com.
Image courtesy Venture/LensPen