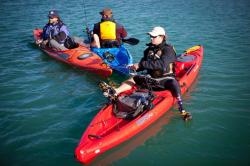 Heroes on the Water (HOW) announced today that they received a grant in the amount of $50,000 from Wounded Warrior Project (WWP), a non-profit organization whose mission is to honor and empower Wounded Warriors. The grant will fund kayak fishing excursions for injured and disabled service members and veterans.
"We are delighted to receive this grant which will support our unique kayak fishing program, said Hilanne Myers, executive director, HOW. Our program provides an outdoor therapeutic experience that yields independence, recovery, and the chance to cast a more positive outlook on life."
"WWP is very proud to be collaborating with so many diverse organizations through our grant program as we understand that only by working together with additional organizations will we be able to meet all of the needs of our Wounded Warriors," said Steven Nardizzi, executive director, WWP. "We believe in order to ensure this generation of injured veterans is the most successful and well-adjusted in our nation's history we must create a strong network of community resources united in support of them."
It is estimated over 48,000 servicemen and women have been physically injured in recent military conflicts, another 320,000 have experienced a traumatic brain injury while on deployment, and as many as 400,000 additional service members live with the invisible wounds of war including combat-related stress, major depression, and post-traumatic stress disorder.
Image courtesy Heroes on the Water