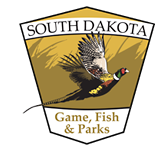 Game, Fish and Parks' The Outdoor Campus-West will be holding a special Halloween Hike event on Friday, October 26th, from 6-8 pm. The event will feature activities, games and a hike, all with a fun, Fall twist.
"This will be a fun event for the whole family," said Chad Tussing, director of The Outdoor Campus-West. "We'll have some great games and activities indoors and out such as scavenger hunts, mystery nature boxes, Pin-the-Tail-on-the-Puma and more."
There is no cost to attend the event and pre-registration is not required. Participants are encouraged to wear their costumes. The Outdoor Campus-West is located at 4130 Adventure Trail and is open to the public seven days a week with no admission fee.
For more information about The Outdoor Campus-West go to www.outdoorcampus.org and click on 'Rapid City.' Or call The Outdoor Campus-West at 394-2310.
Logo courtesy South Dakota Game, Fish and Parks