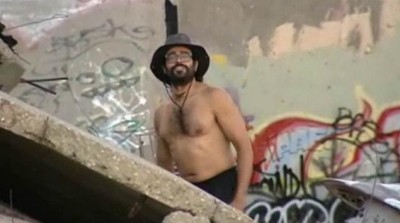 The concern of local hikers and residents of El Paso, Texas has been brought to national attention after one hiker ran into a cave-dwelling man who chased him and his hiking buddies off the mountain. The unidentified "caveman" was reportedly stark naked, bearded and a bit scruffy.
Chris Redfearn and friends were hiking up McKelligon Canyon in Franklin Mountain State Park when he spotted the man. He spoke with his local TV station, which then interviewed residents of the area. As it turns out, they have seen him wandering around their apartment complex, supposedly showering in their laundry room early in the morning and exercising at the complex's jungle gym.
Residents said they do not feel safe with him wandering around, but the man insists he's not bothering anybody. Redfearn and a TV reporter with KVIA hiked back to his cave, which is actually a collapsed water collection ditch. The ditch may be on property that belongs to the local water authority board and pending an investigation and an official complaint, the man may have to move out.
The man granted them a short interview but would not identify himself. He said he survives off community donations, returning bottles and donating plasma. He often eats out of the dumpster. Also, he denies allegations that he bathes the apartment complex's laundry room and accusations of stealing clothes from the complex and scaring hikers.
"If that's true, where's the pictures? If that's true, what tattoos does he have? What is he built like? It's stupidity," he said. He added that his situation is better than that of homeless people living in alleyways and addicted to drugs. "I'm sin free in every city. I'm baptized and saved. I'm up here, I'm not sinning." He has apparently been living there for three years.
View the video from KVIA below to see footage of the man's dwelling.
Image screenshot of video by KVIA on KVIA.com