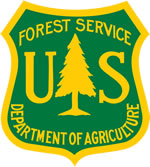 The Hoosier National Forest will soon be advertising a prospectus for the operation of recreation facilities, including Hardin Ridge, Indian-Celina, and Tipsaw Campgrounds. A 5 year permit will be issued with the option to extend for an additional five years. The permit holder is responsible for all operations and specified maintenance of the three recreation facilities. Fees collected from users go to the permit holder, with a percentage return to the government.
A selection will be made in December so that a permit may be issued and an operator can be in place by January 1, 2013. The synopsis of the prospectus is available on the Hoosier National Forest website and on FedBizOpsgov.com.
Applicants are encouraged to research this opportunity on their own. Any questions regarding this opportunity should be directed to Vicki Gullang Harris at (812) 276-4772 or [email protected].
Logo courtesy US Forest Service