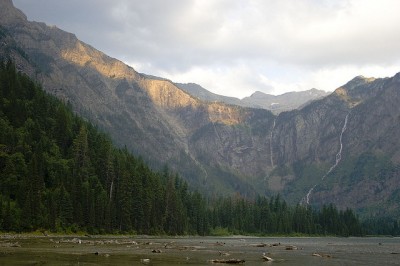 After five days spent stranded in winter-like conditions Neal Peckens and Jason Hiser are safe at home.
According to NBC Washington, the two, 32-year-old Virginia residents spent a few more days in Montana's portion of Glacier National Park than they planned on after one of the hikers fell more than a 100 feet, on Wednesday October 10, separating the two hikers and forcing them to parallel hike in attempt to maintain contact with one another. To make matters worse, strong winds blew away their map.
It took almost 24 hours but the two were eventually able to make camp together.
Difficult terrain and weather conditions forced the two men to abort their only attempt up  the mountain and camp for four days.
Peckens and Hiser rationed their food, used their space blanket for reflection (to increase the chance they would be spotted), used logs to create an SOS signal, built a smoke fire and also used their cell phones only during the day in an attempt to maximize their chances for rescue.
Monday, October 15, a Glacier National Park searcher spotted a flag which led him to the two hikers, who were cold but otherwise unharmed.
Glacier National Park Chief Ranger Mark Foust told NBC Washington, "These hikers were prepared with appropriate equipment and they used their situational awareness skills to determine how to respond to the unexpected in the backcountry."
Foust went on to say, "We are extremely pleased with the outcome of this incident, and perhaps we all can learn from this experience and these two men."
httpv://youtu.be/h1B2x9rbBuQ
Image from Katie Brady ([email protected]!) on the flickr Creative Commons