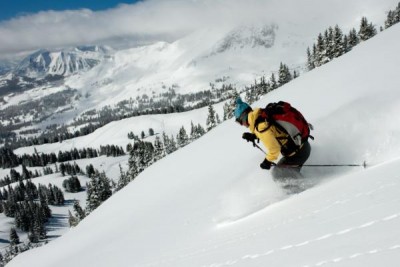 "Colorado's Last Great Ski Town" makes it easy & affordable to visit this winter
With snow already gracing the peaks and an amazing fall foliage season drawn to a close, Colorado's Gunnison-Crested Butte Valley is fully focused on the opening days of ski season at Crested Butte Nordic Center on Nov. 17 and Crested Butte Mountain Resort on Nov. 21. Known for its friendly, free-spirited vibe and outstanding outdoor recreation, Gunnison-Crested Butte is pleased to announce outstanding travel deals, the air schedule for winter, and a December airfare sale.
Outstanding Deals
All skiers and snowboarders can Ski Free on Opening Day at Crested Butte Mountain Resort on Nov. 21 to launch the ski and ride season in true Crested Butte fashion. It's true; get a sampling of "Colorado's Last Great Ski Town" for free!
Finding lodging and lift tickets deals at properties throughout the Gunnison-Crested Butte Valley is easy by going to www.GunnisonCrestedButte.com/packages. Here's a sampling of several offers.
Shake off the fair-weather cobwebs and experience uncrowded skiing and riding at its finest by taking advantage of one of the valley's Ski Free with Lodging packages available from opening day at Crested Butte Mountain Resort (CBMR) on Nov. 21 through Dec. 19, 2012. Properties managed by Crested Butte Mountain Resort and Peak Properties, San Moritz Condominiums, Elk Mountain Lodge and Three Rivers Resort are among those offering Ski Free with Lodging deals on www.GunnisonCrestedButte.com/packages.
Take advantage of the Gunnison Getaway package for terrific ski vacation rates throughout the season. Prices are per adult, per night (including a lift ticket at Crested Butte Mountain Resort) at the 11 participating properties range from $36.50 early season and $61.50 regular season at Wanderlust Hostel to $74.50 early season and $99.50 regular season at Holiday Inn Express & Suites. Price is based on double occupancy with two adult lift tickets and does not include taxes. Young adult and children's lift tickets can be purchased when booking the stay, and the cost for children and other additional occupants staying in the room may be extra. Go to www.gunnisongetaway.com,
Book a Crested Butte vacation for three or more people by Dec. 1, 2012, and every third airline ticket is free through the Friends & Family Fly Free package. A four-night minimum night stay at a Crested Butte Mountain Resort managed property or WestWall Lodge is required, and the offer is available only on flights arriving and departing from the Gunnison-Crested Butte Regional Airport (GUC). Travel must take place between Dec. 13, 2012 and April 1, 2013 (with some blackout dates around the holidays and spring break). A maximum travel credit of $450 is allowed per free airline ticket, and the offer is limited to three free airline tickets per reservation. For all the specific details, go to www.GunnisonCrestedButte.com/packages or call (800) 810-7669.
A great pre-holiday deal is The Grandest Christmas package featuring four nights of lodging at Grand Lodge in Mt. Crested Butte, three days of skiing or riding, and Adventure Park access for tubing, mini golf, rock climbing and bungee trampolines at Crested Butte Mountain Resort. The $999 package is for two adults and two children, ages 17 or younger, and is good for travel from Dec. 14 to Dec. 23, 2012. This deal must be booked by Dec. 16 and is subject to availability and prior to all fees and taxes. Call (800) 600-2803 and visit www.skicb.com.
From Jan. 5 – Feb. 7, 2013, Old Town Inn in Crested Butte is offering 2 Nights Lodging/2 Days Skiing for $238. The price is per person based on double occupancy and includes breakfast and afternoon cookies. Guestrooms feature two queen beds. Additional nights and/or lift tickets are available. For example, 4 Nights Lodging/3 Days Skiing for $399 packages also are being offered. Tax is not included. Call (888) 349-6184 and visit www.oldtowninn.net.
At Elk Mountain Lodge, 2 Nights Lodging/2 Days Skiing for $261 is available from Jan. 13 – 31, 2013. This price is per person and based on double occupancy in a room with one queen bed or two twin beds. Packages include a full breakfast, and taxes are extra. Additional nights and/or lift tickets are available.  Call (800) 374-6521 and visit www.elkmountainlodge.com.
Convenient Air Service & Ground Transportation
United Airlines offers direct flights to the Gunnison-Crested Butte Regional Airport (GUC) from Denver (DEN) year-round and Houston (IAH) daily from Dec. 19, 2012 – Jan. 2, 2013 and on Saturdays from Feb. 16 – March, 2013. American Airlines will provide daily direct flights from Dallas (DFW) from Dec. 13, 2012 – April 1, 2013 (except for some Tuesdays). Through both carriers' extensive networks, guests can reach Gunnison-Crested Butte from anywhere in the world. To view a detailed flight schedule, go to www.GunnisonCrestedButte.com.
Numerous ground transportation options make it easy upon arrival. At the airport, rent a car or take one of the shuttles operated by Alpine Express (www.alpineepxressshuttle.com) or Dolly's Mountain Shuttle (www.dollysmountainshuttle.typepad.com) to Crested Butte and Mt. Crested Butte. Once there, the free Mountain Express (www.mtnexp.org) bus system travels between Crested Butte and Mt. Crested Butte, dropping riders off at many stops including downtown Crested Butte, the visitor centers, Crested Butte Mountain Resort, Crested Butte Nordic Center, and more. Gunnison Valley RTA (www.gunnisonvalleyrta.org) runs a free bus route up to nine times a day between Gunnison, Almont, Crested Butte and Mt. Crested Butte (ski equipment is allowed but no baggage) during ski season so it's easy to explore the unique offerings of all four towns.
December Fare Sale
American Airlines has a December Fare Sale underway with airfare starting at $150 each way from Dallas to the Gunnison-Crested Butte Regional Airport.  The sale fares are valid for travel between Dec. 13 – 31, 2012 (must begin travel from Dec. 13 – 25) and purchase is required by October 31, 2012.  Round trip connecting flights also are eligible for savings from many cities nationwide. Travel to Colorado must take place Thursday through Saturday and from Colorado on Saturday through Monday for the best prices. A three-night stay may be required. To find out all the details, including taxes/fees and change fees, visit www.gunnisoncrestedbutte.com/packages.
Visitor Information & Personalized Vacation Packages
To request a vacation planner, see an event schedule or to book vacation packages, call the Gunnison-Crested Butte Tourism Association's at (800) 814-8893 or visit www.GunnisonCrestedButte.com/packages.
Find the Tourism Association on Facebook at www.facebook.com/gcbta or follow us on www.twitter.com/gcbta.  The Gunnison-Crested Butte Regional Airport is served year-round by United Airlines and during the winter season by American Airlines and Continental Airlines.
About Gunnison-Crested Butte, Colorado
Gunnison-Crested Butte is nestled among almost two million acres of pristine wilderness in southwest Colorado. Winter sports enthusiasts know the area for its world-class alpine skiing and snowboarding at Crested Butte Mountain Resort, snowmobiling, cross-country skiing, snowshoeing and ice fishing. Gunnison-Crested Butte is also a haven for outdoor summer activities. In the warmer months, visitors can choose from recreational activities such as hiking, climbing, mountain biking, boating, whitewater rafting, kayaking, fly-fishing, camping and horseback riding. Year-round visitors enjoy distinctive restaurants, unique shops and stimulating cultural opportunities, and have a wide range of lodging options — from rustic inns to guest cabins and bed-and-breakfasts to full-service resort hotels.
Gunnison, county seat and a real Western town, is home to the Gunnison-Crested Butte Regional Airport, Gunnison Whitewater Park, Gunnison Valley Observatory, Pioneer Museum and Western State Colorado University, which offers bachelor's and master's degrees in liberal arts and sciences and pre-professional fields.  Both Crested Butte and Gunnison have thriving historic central business districts packed with shopping and dining opportunities.
Recognized as the "Official Wildflower Capital of Colorado" by the Colorado Legislature and one of the National Trust for Historic Preservation's "Dozen Distinctive Destinations" in 2008, Crested Butte is 28 miles from Gunnison and the site of rich mining, ranching and skiing heritage and home to the Crested Butte Mountain Heritage Museum and Mountain Bike Hall of Fame. Only three miles up the road is the resort village of Mt. Crested Butte, home to the ski area, an active base area, the area's conference center, and outstanding hiking and biking trails.
Marble is located in the Upper Crystal River Valley along the Elk Mountains and is the gateway to nearby Crystal, home to one of the most photographed mill sites in the country. Marble has seven sites on the National Register of Historic Places and is the location of the Yule Marble Quarry.
In Gunnison County, visitors will find the Curecanti National Recreation Area, where dinosaur fossils were recently discovered; the Blue Mesa Reservoir, Colorado's largest body of water and home to the largest Kokanee salmon fishery in the United States; and The Black Canyon of the Gunnison. Gunnison County includes the quaint and historic towns of Pitkin, Gothic, Tin Cup,  Powderhorn, Almont and Crystal. Gunnison County is part of the West Elk Loop and Silver Thread Scenic & Historic Byways.
Image courtesy Gunnison-Crested Butte Tourism Association