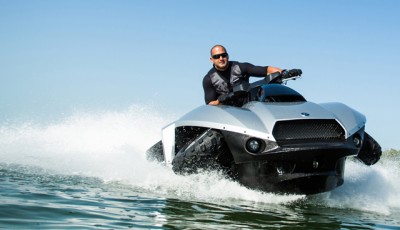 The awe-inspiring vehicles of our childhood superheros are just about one month away from reality. For the past 15 years, Gibbs Sports Amphibians has been pumping money and research into an aquatic ATV. Essentially, a land roving four-wheeler which folds its wheels under itself when in water, then blasts away like a personal watercraft.
The watercraft ATV is powered by a BMW 1.3-liter four cylinder engine with 175 horsepower and 103 lb-ft torque. It's 15-gallon gas tank will allow for a long journey as the driver traverses easily through water and on land. The wheels fold within five seconds with the push of the button and the Quadski is ready to rip through the waves instantly.
Considering the time and money that went into this, the Quadski is estimated to retail at $40,000, but an official price will be released at the time of the vehicles release next month. Now, if only we could actually make the batmobile fly…
Original press release issued by GIBBS on October 15, 2012
The world's first high-speed sports amphibian – the GIBBS Quadski – will go on sale in the United States next month.
The dream of two visionary entrepreneurs, the GIBBS high-speed amphibian is the product of millions of research dollars and years of development work in the United States, New Zealand and the UK. It will be produced at a 54,000-square-foot assembly plant in Auburn Hills, Michigan.
An entirely new form of transportation for U.S. consumers, the Quadski is capable of reaching speeds of 45 mph on both land and water and transitions between both in five seconds or less.
Introduced at a Gibbs Sports Amphibian press conference in Detroit by Alan Gibbs, the company's founder, and Neil Jenkins, its chairman, the Quadski is equipped with a 175-horsepower BMW Motorrad engine and transmission. With the press of a button, its wheels retract when entering the water and deploy when approaching land.
View the video below to see the Quadski in action.
httpv://youtu.be/jP6-G2IvDns
Jenkins told reporters in Detroit that Quadski will retail for about $40,000 when introduced in November. The company expects to have more than 20 dealership locations in place within the next 12 months, primarily in the Midwest, New York, Texas and the southeastern United States.
The GIBBS amphibian weighs 1,300 pounds, is equipped with a 15-gallon fuel tank and will be available in five colors – red, yellow, blue, silver and black. Suggested retail pricing and details about GIBBS' dealer network will be announced prior to public introduction in mid November.
"Quadski represents an investment of more than $200-million and two-million man hours of work over a period of 15 years," said Alan Gibbs. "With the introduction of Quadski next month, our dream of providing high-speed amphibian transportation to consumers will become a reality.
GIBBS has more than 300 patents and patents pending on its High Speed Amphibian (HSA) technology for consumer, commercial and first-responder use.
"It's been a long, uphill battle, but clearly worth the effort," said Gibbs. "Quadski will pave the way for a host of other HSAs for consumers, sports enthusiasts, law enforcement agencies, first responders and other commercial enterprises."
Jenkins noted that Gibbs Sports Amphibians expects to add a total of more than 200 jobs at its Auburn Hills facilities on Brown Road and its new assembly plant at 50 Corporate Drive in the next 12 months. At maximum capacity, the plant will be capable of producing 20 units per hour. The company currently has 100 Michigan employees.
"Although Quadski initially will be available for sale only in the U.S., we expect to find a ready market for it in Europe, Latin America and elsewhere around the world in 2014 and beyond," Gibbs added.
The new HSA's BMW four-cylinder, water-cooled engine is considered the lightest power plant in its segment and features electronic fuel injection, a double-overhead camshaft and dry-sump lubrication. GIBBS spent more than 18 months and 75,000 engineering man hours to pair BMW's Motorrad powertrain to its high-tech amphibian system.
"We've created an entirely new powersports category with our patented HSA technology. Quadski is especially designed for families and individuals who enjoy the outdoors, watersports, off-road travel, hunting and fishing," said Jenkins. "It offers premium powersports buyers a combination of power, safety, comfort and versatility that has never been available before."
Designed to meet applicable state and federal safety requirements, the Quadski is 10.5 feet in overall length; 5.2 feet in width, and 4.3 feet in height with a wheelbase of 5.8 feet. It initially will be offered for use by one person.
Image courtesy of Gibbs Sports Amphibians