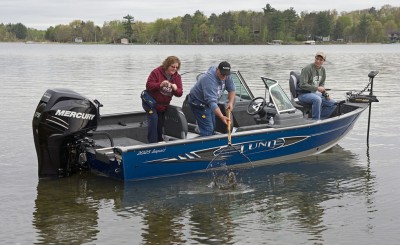 In fishing, bigger is typically better. For starters, big bait often catches larger fish. And large, windblown waters can mean big fish, but at the same time these lakes and reservoirs deserve respect. That respect is paid in the form of a boat designed specifically to handle the rough water conditions that go hand-in-hand with plus-sized fish — the Lund 2025 Impact Sport.
Building on the huge success of the Lund Impact family—and listening to anglers' requests for a 20-foot version—Lund introduces the 2025 Impact Sport, a serious fishing machine for anglers who fish big water for big fish and demand plenty of space for work and play.
This 20-foot, 2-inch boat boasts Lund's legendary IPS 2 hull for superior durability and boat control, a 96-inch beam, a 25-inch transom and heavy-duty extruded gunwales to handle the roughest conditions. Great Lakes? Unpredictable Dakota winds? Big Canadian water? It's built to keep you safe, dry and effortlessly hold your position on the break lines to catch more fish. It's also rated for up to 200 HP to get you to your favorite fishing spots faster.
Plus, the 2025 Impact Sport has ample room for up to six boaters, making it an extremely flexible option for family recreation or serious multi-angler fishing. But lots of people mean lots of stuff, so Lund engineers built in massive amounts of storage, including locking dual side compartments with rod tubes, giant bow storage compartments, and a center locker that holds up to ten rods. It also comes standard with four seats and an optional aft jump seat that creates a larger rear casting platform. Plus, there's plenty of room for your fish with two standard aerated livewells: a 12-gallon in the bow and an 18-gallon trophy-tank aft.
Whether you're tag-teaming fish with a friend or taking out the entire family, the 2025 Impact Sport is all about fishability, versatility and big water handling.
Larger. Faster. Safer. Lund's new 2025 Impact Sport has it all.
Image courtesy Lund Boats