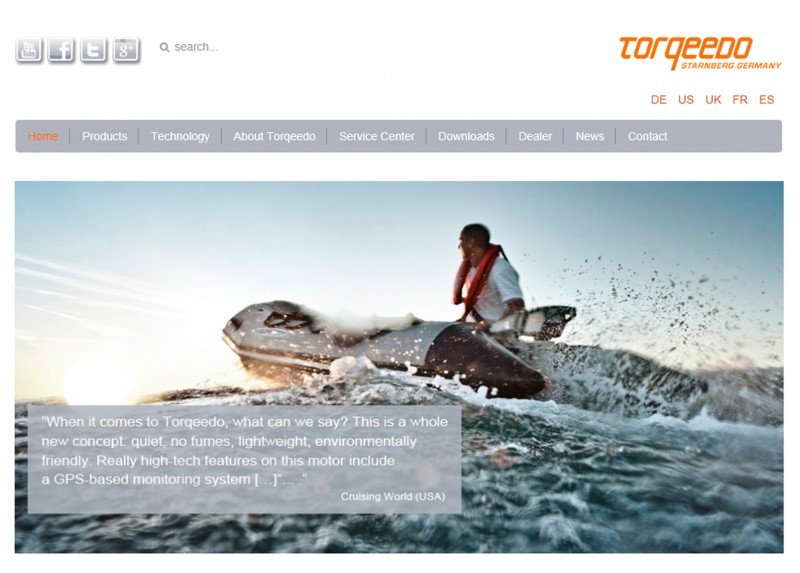 To better showcase its products and strengthen its customer connections, Torqeedo introduces its newly enhanced website and has joined Facebook and Twitter.  The website, www.Torqeedo.com, provides answers for prospective customers searching for the perfect electric outboard motor for their boats as well as resources for existing Torqeedo owners.
The site is highly organized and easy to navigate.  In addition to a wealth of information on the Ultralight, Travel and Cruise line of motors, visitors can download the latest Torqeedo catalog, access product manuals, view video demonstrations and locate a dealer.  For the engineer at heart, the site provides detailed technical explanations on propulsion and propeller optimization.
Owners of Torqeedo motors will want to visit the site to register their purchase, find warranty information, and locate their nearest service center.  A detailed list of spare parts and accessories is also available.
Torqeedo invites fans to visit them on Facebook.  Boaters who "like" Torqeedo will be able to receive the latest news and follow the adventures of other Torqeedo users.  Recommendations are also featured on the page, so potential and current customers can find first-hand accounts of the motors' capabilities.
These are exciting times at Torqeedo.  By following Torqeedo on Twitter at @TORQEEDOGmbH, boaters will be able to keep up with the latest happenings and events, including boat show appearances and breaking news.
Image courtesy Marting Flory/Torqueedo