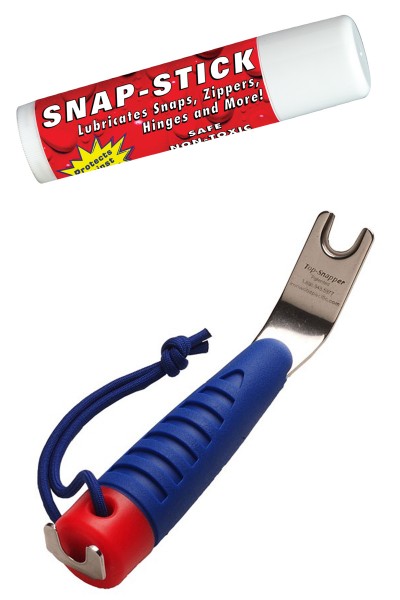 Snaps and zippers are one of the most overlooked mechanical items on a boat.  Boat owners tend to notice them the most when they stop functioning properly by becoming stiff or hard to snap.  To help prevent this, every owner should have Shurhold's Snap Stick and the EZ Snap Tool on hand.
The EZ Snap Tool has a long, forked end that slides on the underside of a snap and allows users to pull and seal a snap from the inside.  Owners can now put up an entire enclosure in the rain without having to go on the outside.  Additionally, on the butt end it has a top snap grabber to hold the snap and pull from the outside to help push on that last tough snap on a tight piece of canvas or enclosure.
Snaps and zippers function better when clean and lubricated.  Owners should make sure to wash and rinse them with the rest of the boat when they are doing a regular wash down.  Then, a couple times a year they should apply a lubricant and protection product to them, such as Snap Stick.
Snap Stick is easy to use.  Unlike a spray or a gel that can get on the surrounding canvas and surfaces, this twist stick product only goes where users put it.
For snaps, Snap Stick should be rubbed on the male stud end and then the snap should be closed to lubricate and protect both halves.  This process should be done on all snaps, even the ones that are never open.  This will help prevent them from seizing in the future.
For zippers, Snap Stick should be run along the open teeth of both sides then worked in with the zipper pull.  This also works great on any zipper, including the ones on golf bags and wetsuits.  Snap Stick can also be rubbed on a key to protect the inside of locks or along a drill bit to lubricate it for drilling holes in metal.
Snaps and zippers are mechanical devices and should be treated as such.  They should be cleaned and lubricated on a regular basis for years of trouble-free operation.  More information can be found in the video http://shurhold.com/article/clean-n-simple/how-do-i-protect-and-lubricate-my-snaps-and-zippers/.
Shurhold's Snap Stick retails for $6.48, while the EZ Snap Tool is $19.98.
Dedicated to educating boat owners, Shurhold provides key tips for boat value preservation at www.shurhold.com.  Inventor of the One Handle Does It All system, Shurhold manufactures specialty care items and accessories to clean, polish and detail.
Contact Shurhold, 3119 SW 42nd Ave., Palm City, FL 34990.  800-962-6241; Fax: 772-286-9620.  www.shurhold.com.
Image courtesy Martin Flory