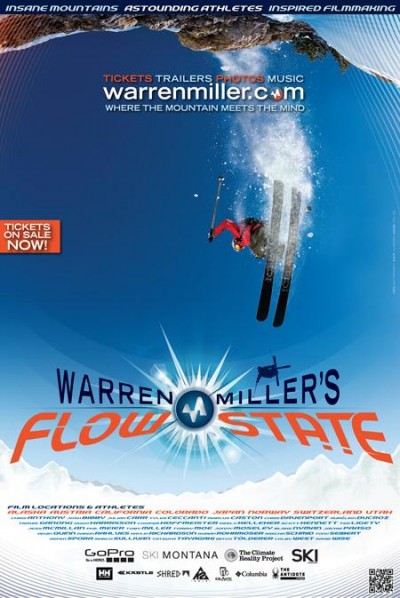 On October 19th, Warren Miller Entertainment kicks off their annual feature film tour in Salt Lake City. Chaos Headwear – featuring CTR Chaos Thermal Regulation, will be one of the proud sponsors of 2012/13 tour. Chaos is in there 2nd season supplying Warren Miller Entertainment (WME) with both custom co-branded merchandise, and WME hats for the film crew to hand select attendees at the shows across the country. Chaos will also offer film attendees the opportunity to purchase discounted hats via WME's promotional website coupons.
Chaos will have two feature nights along the tour with extra merchandise prizes for avid Warren Film attendees in it's home town of Steamboat Springs, CO. Shows will start Saturday, November 17th at 3:00, 6:00 and 9:00 pm at the Colorado Mountain College and at Denver's historic Paramount Theater. Then in Denver on the weekend of Thursday, November 15th at 8:00 pm, Friday the 16th at 6:00 and 9:30 pm, Saturday the 17th at 2:30, 6:00 and 9:30 pm and Sunday the 18th at 2:00 and 5:00 pm. The Chaos Facebook will list the exact showcase night.
"It is an honor to be on board this year with the Warren Miller tour. They cover all of the sport of snow for skiers, boarders, women, men and new up and comers; there is something scary and exhilarating for everyone! Thank you Warren Miller and have a great tour," Gary Supple Chaos Headwear, Director of US Operations.
"The Flow State is a place where the impossible becomes possible – where time slows down and a perfect moment becomes attainable. This film reveals what it is like to be completely immersed in the present, completely immersed in the snow, in the mountains, and in the enjoyment of winter." Says Max Bervy, director of the film.
Hosted by skiing icon Jonny Moseley and showcasing athletes including Chris Anthony, WM veteran, Flow state is your annual reminder to get in the winter state of mind.
This year, Warren Miller Entertainment offers your first stop for preseason powder stoke, with the introduction of its 63rd annual winter sports film, Warren Miller's, Flow State. The Warren Miller association describes, "The Flow State exists anywhere crisp winter air shocks your lungs and sunlight refracts off snowflakes, allowing you to emerge from this state improved – happier, more confident and more aware of your surroundings", Flow State celebrates the moments of focus and relationship with nature where time slows as you move faster.
Chaos and Warren Miller Invite you to watch world-class athletes – including Chris Davenport, Jess McMillan, David Wise, and Ted Ligety, to name a few. Flow State will sweep the nation as a limited, high-definition release, stopping in more than 240 U.S. cities, including major markets like Denver, Steamboat Springs (home of Chaos headwear) Seattle, Chicago and Los Angeles. With screenings often running for one night only. Warren Miller films attract a cult-like following and mark the official start of winter for sports enthusiasts everywhere. Check warrenmiller.com for a complete showcase of this year's film locations and extended athlete bios.
Image courtesy Chaos Headwear