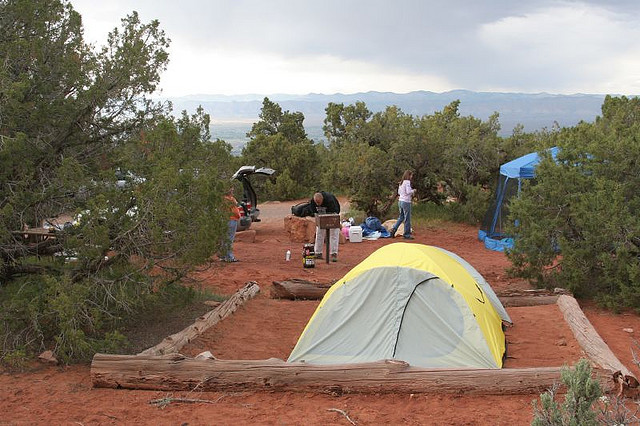 Almost 43 million Americans participated in camping last year, according to a new study released today by The Outdoor Foundation and sponsored by Kampgrounds of America Inc. and The Coleman Company, Inc. That equates to 14.9 percent of Americans over age six. The findings are part of the 2012 American Camper Report, the leading report tracking participation in camping in the United States.
The Outdoor Foundation's American Camper Report provides data and analysis on overall camping participation and explores preferences, buying behavior and the future of camping. For the first time in the history of this report, people within the camping industry share trends that they are seeing in the field, and the report takes an in-depth look at Hispanic American campers to examine this growing minority's unique motivations, preferences and barriers. The findings are based on an online survey of more than 38,000 Americans ages six and older and a supplementary survey of camping participants 18 and older.
"The American Camper Report shows that camping gained popularity in 2011 – adding nearly three million participants since 2010," said Chris Fanning, executive director of The Outdoor Foundation. "The information and analysis in this report will help the outdoor industry and all stakeholders engage even more Americans in camping and transform non-participants into active outdoor enthusiasts and committed environmental stewards."
"2012 is KOA's fiftieth Anniversary and KOA hopes that its outdoor hospitality legacy will continue to expand along with the businesses of other outdoor enterprises as we learn more about the needs, trends and outdoor behaviors of the American camper," KOA's CEO Jim Rogers stated. "The report's special focus on Hispanic campers also aligns with KOA's goals to find new ways to increase the engagement of ethnically diverse populations in camping and outdoor fun."
"Throughout our 112-year history, Coleman has maintained a reputation for creating innovative, high-quality outdoor gear. Insights from studies like the American Camper Report are a foundational piece of Coleman's ability to build and maintain that reputation," said Robert Marcovitch, President and CEO of Coleman. "Thanks to the knowledge we gain from the Camper Report, Coleman continues to develop exciting gear for both the new and experienced outdoor enthusiast alike."
The insights detailed in the 2012 American Camper Report are critical to understanding both campers and non-campers and building participation in the activity. Some additional findings include:
Overview of Camping Participation
Almost 43 million Americans went camping in 2011 for a total of 534.9 million days. Participation is up from 39.9 million campers and 514.8 million days in 2010.
Almost all age brackets added participants, except the adolescent group.
Camping gained a net of 2.6 million participants from 2010 to 2011, but it has a fairly high churn rate at 16 percent.
Reports from public and private campsites and the Outdoor Industry Association illustrate a general uptick in camping participation.
The Mountain Region has the highest camping participation rate.
Seventy-seven percent of all campers are married or living with a domestic partner.
Eighty-four percent of campers participate in multiple outdoor activities.
Profile of a Camping Trip
Sixty-seven percent of participants camped the most in public campgrounds.
The average camper went on 4.97 camping trips.
Participants traveled a mean of 190.6 miles away from home to camp.
Almost half of all American campers plan their trips at least one month in advance.
Seventy percent of all trips are taken with friends.
Hiking is the most popular activity to participate in while camping.
Buying Behavior
More than half of camping participants are employed, and 29 percent are students.
Battery lighting was the most popular purchase during the past year and was especially popular among older campers.
Most camping purchases are planned at home before taking a camping trip.
Hispanic Campers: A Focused Look
At 5.52 camping trips per year per participant, the average Hispanic participant goes camping more than the average Caucasian participant.
Hispanics bought more camping equipment in the last 12 months than non-Hispanics.
Twenty-three percent of Hispanic campers ages 18 and over tried camping for the first time in 2011.
Future of Camping
Campers are planning an average of 4.33 camping trips next year.
Fathers are the most likely person to take someone camping for the first time.
The most cited reason for reducing the number of camping trips is a lack of time due to work and family commitments.
To download a complete copy of the 2012 American Camper Report, visit The Outdoor Foundation website at http://www.outdoorfoundation.org/research.camping.2012.html.
Image courtesy Zach Taylor on flicr