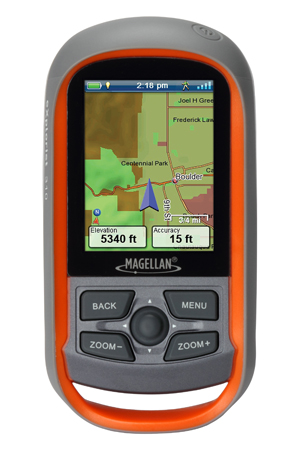 Magellan, a leader in innovative GPS devices for vehicles, fitness, outdoor and mobile navigation, today announced its partnership with award-winning adventure author and photographer Peter Potterfield for a nationwide photo slideshow tour at REI stores where he will present the dazzling images from his new book, "Classic Hikes of North America," and discuss what hikers need to know before embarking on their next adventure.  As part of these presentations sponsored by Magellan, Potterfield will discuss his use of a Magellan eXplorist Outdoor GPS receiver to navigate the terrain during his hiking experiences.
Commencing now through December, the free slideshows presented by Peter Potterfield at REI stores include: Oct. 9 – Reading, MA; Oct. 10 – Boston, MA; Oct. 11 – Rockville, MD; Fairfax, VA; Oct. 16 – Redmond, WA; Oct. 17 – Seattle, WA; Oct. 25 – New York City (SoHo); Oct. 30 – Saratoga, CA; Oct. 31 – Corte Madera, CA; Nov. 1 – Berkeley, CA; Nov. 2 – San Carlos, CA; Nov. 7 – San Diego, CA; Nov. 8 – Santa Monica, CA; Nov. 14 – Lincoln Park, IL (Chicago); Nov. 28 – Bloomington, MN (Minneapolis); Dec. 5 – Portland, OR; and Dec. 6 – Olympia, WA.
"Sometimes a map and compass just isn't enough for serious backcountry travel," said Peter Potterfield, author of Classic Hikes of North America and a dozen other books on outdoor adventure. "For those routes where a handheld GPS is essential, I find the eXplorist 310 to be the perfect fit. Small, lightweight, and with outstanding battery longevity, the eXplorist has found a place in my pack. I rely on this Magellan device to ensure my safety, as well as efficient travel, and to store a record of my journey for future mapping and archiving."
Veteran adventure journalist Peter Potterfield has traversed an entire continent to compile an informative guide to 25 of the most magnificent trails across the United States and Canada. Beautifully photographed and eminently practical, "Classic Hikes of North America" analyzes spectacular vistas with both beginners and avid hikers in mind. Potterfield provides comprehensive information on each trail including level of difficulty, trail conditions, recommended seasons, potential hazards and difficulties, resource information and detailed maps of hiking routes. http://ClassicHikes.com
"We are very pleased to have this opportunity to partner with Peter who has hiked more than 10,000 miles on six continents and shares our appreciation of nature and the challenges of outdoor adventures," said Warren Hewerdine, Sr. Director of Marketing for Magellan.  "eXplorist GPS receivers, plus top-of-the-line maps such as National Geographic TOPO!, give hikers or any outdoor enthusiast an essential navigation tool for life outside."
The Magellan eXplorist series of rugged, waterproof (IPX-7) handheld GPS receivers feature high-quality navigation solutions for any outdoor adventure. Perfect for hiking, backpacking, geocaching, hunting, fishing, boating, mountain biking or riding ATVs, eXplorist GPS devices provide innovative features, easy-to-use menus, sunlight-readable screens and long lasting battery life. http://www.magellangps.com/eXploristSeries.
Image courtesy Magellan