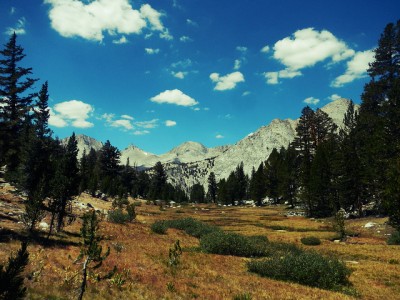 It wasn't quite a time capsule that hiker Larry Wright found at the peak in the backcountry of the southern Sierras, but it was just as interesting. Wright, a resident of Oakland, California, was on an 11-day trek with his son, grandson and a few others through the Sierras. When they scaled a peak near Milestone Mountain in Sequoia  National Park, Wright, 69, noticed a small metal canister near a rock on the peak.
The canister was thoroughly weathered. It was so rusted that it was about the same color as the rock, but a hand-written note inside was perfectly preserved. Wright pulled out the yellow, old paper note that read, "Tim Taylor climbed to this peak, Thursday August 17, 1972 age 13 yrs. Anyone finding this please write: Tim Taylor 1333 Padres Trail La Cañada, Calif 91011, U.S. of A. Hieght [sic] of peak: 12785"
Wright wanted to meet the boy, who would now be an adult at 53 years old, to share hiking stories. He attempted to find Taylor through a voter registration search, by talking to residents of his old neighborhood and by going to the address listed in the note. It seems as if Taylor has long moved away.
Now living in the house is Koichi Uyemura and his family, who have lived there for the past 18 years. He believes that two other families have passed through this house since the Taylors lived there.
Wright is still on the search for the young hiker and has asked the Valley Sun newspaper in California to help him locate Taylor.
Image from oliveoligarchy on the flickr Creative Commons