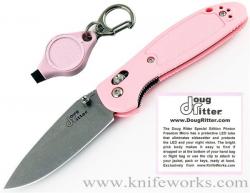 October is Breast Cancer Awareness Month and KnifeWorks and Doug Ritter are going all out to celebrate Women and their fight against cancer with a special combination of Doug Ritter's PINK Mini-RSK MK1 and the DR Limited Special Edition PINK Photon – ONLY $120 for both, PLUS FREE SHIPPING!
PLUS…10% goes to the Bobbi Olson Women's Cancer Research Fund at the Arizona Cancer Center for each set sold. The Arizona Cancer Center is a premier National Cancer Institute-designated Comprehensive Cancer Center. PLUS, Benchmade Knife Company makes its own 5% Pink Ribbon contribution based on the wholesale cost of the knives to KnifeWorks. Buy this combo and it's a Double Donation to Fight Women's Cancer!
The highly acclaimed Doug Ritter Mini-RSK Mk1 features high-carbon CPM S30V stainless steel, a stonewashed, 2.88-inch drop point wide-chord blade designed by Doug with the extraordinary patented Benchmade AXIS lock for secure and easy lock-up and release. The Doug Ritter Limited Special Edition PINK Photon Freedom Mico-Light is incredibly bright for its size, has variable intensity and 4 safety strobe functions, and is configured with a shield to protect your vision and direct light only where you want it. The extra-bright LED is unbreakable and will last virtually forever. Lithium coin-cell batteries ensure long storage life and hours and hours in use.
Treat yourself, or equip someone special in your life to survive the trials and tribulations of everyday life, while at the same time giving a gift of hope to all those who are impacted by the scourge of women's cancer.
Doug explains, "We have been donating from sales of the PINK Minis for years now, but earlier this year, my wife, Sue, was diagnosed with breast cancer during her annual mammogram. She had a lumpectomy the week before BLADE Show and we received the confirming cancer diagnosis during the show. She just completed radiation treatments."
Sue writes, "I was scared, but I had total confidence in my team of doctors from the Arizona Cancer Center. The quality of care and concern were of the highest caliber anyone could hope for."
"I was especially proud that 10% of the retail sale of every PINK Mini-RSK MK1 that we sell goes to the Bobbi Olson Women's Cancer Research Fund. As I sat waiting for my radiation treatments, I had the blessing of meeting other women that were going through what I was (and worse). These donations were helping them live longer, stronger lives."
"I had the pleasure of knowing Bobbi Olson. She was one of the most caring, concerned and hardworking persons I have ever known. Her courageous battle against cancer and the memory of her good works are honored by this Women's Cancer Research Fund."
"I ask for your support in purchasing this knife and light combo so that the good work being done by the researchers and doctors at the Arizona Cancer Center can continue. Your support is making a difference in the lives of many women, their families and friends."
Get it here: http://www.knifeworks.com/dougritterpinkminirskmk1anddrlimitedspecialeditionpinkphoton.aspx
Image courtesy Doug Ritter Gear