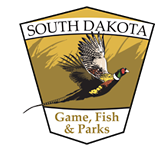 The South Dakota Game, Fish and Parks Department announced today that it has received a grant in the amount of $1,596 from the South Dakota Parks and Wildlife Foundation to repair LaFramboise Island trails that were extensively damaged by last year's Missouri River flooding.
The funds granted to GFP were provided by contributions from members of the Capital City Bicycle Club of Pierre and have been held in a dedicated account at the Foundation for the purpose of improving or repairing bike trails in central South Dakota.
"Bike riders in our community are anxious to access the trails on LaFramboise again," said Tom Lee, president of the Capital City Bicycle Club. "We know there is considerable expense involved in making these trails usable after the flooding, and we are happy to contribute funds to help with the cost."
Although the main trails are scheduled to be open on Saturday, Oct. 6, additional cleanup and repair of the trails will be needed, noted Ryan Raynor, GFP district park supervisor.
A volunteer work day has been organized for Oct. 6 to help clean up and repair trails. Interested volunteers should meet at the picnic shelter at 9 a.m. Volunteers are asked to bring their own pruners, rakes, non-motorized saws and protective gear if possible.
Image courtesy South Dakota Game, Fish and Parks