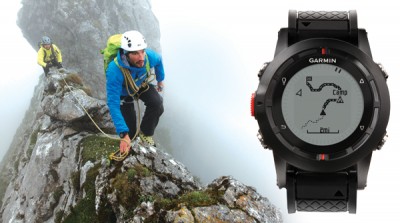 Garmin fenix has been hard to get until now, but that is all about to change according to the Heart Rate Watch Company.
"I've been testing altimeter watches and heart rate monitors for over 20 years, the word blog did not even exist when I began testing, dating back to Avocet in the 1990's and this watch is the most popular and holds the greatest fascination for outdoor types of any watch ever made", says Rusty Squire, President of the Heart Rate Watch Company.
THE OUTDOOR CROSSOVER WATCH
"No watch has ever had such a large crossover appeal with so many different users as the Garmin fenix has", says Squire, adding "we've had orders from hunters, ultra runners, skiers, mountain bikers, mountaineers, hikers and a very wide array of outdoor enthusiasts".
Indeed, the Garmin fenix and Suunto Ambit, are the two pioneers in the the rugged outdoor adventure watch category and the category has been so successful that it is highly unlikely that they will be the last.
"What grabs people about these watches is that they are built to last, probably two to three times longer than the average fitness watch", says Squire. He adds, "The kicker is that with GPS navigation, trackback, distance, speed, heart rate, calories, maps, compass, barometric altimeter and more it is the broad array of capabilities that wins users over – it is like having a Swiss Army knife versus a plain knife".
Garmin started shipping Garmin fenix watches this week and the back orders are starting to get cleaned up so now is a great time to order one according to Squire. "This is one of the coolest watches Garmin has made in years and, with firmware updates likely enhancing features as time goes forward, it is a great time for the fenix", says Squire.
httpv://youtu.be/A6UCIWmzh1g
Image courtesy Garmin