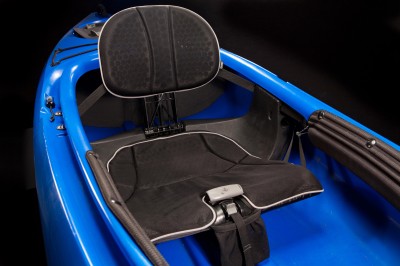 Wilderness Systems this week announced the launch of their new Phase 3 AirPro Outfitting across all Wildy models, a system that continues to push the limits of innovation.
Wilderness Systems Phase 3 AirPro Outfitting: The Wilderness Systems patented Phase 3 seating system became the industry standard in comfort and adjustability. And now it's even better.
Introducing the new Phase 3 AirPro: designed with innovative ergonomic features that add comfort and easy adjustability. Varying densities in the foam padding provide extra cushioning along the spine and under the legs while comfortably supporting the sit bones. The flexible back rest conforms to and moves with your back and a cutaway provides spinal support. The AirPro also features a special material over the perforated foam that improves ventilation so you and your seat breathe and dry out quickly.
The Phase 3 AirPro Outfitting features such ergonomic details as easily accessible controls and a re-designed leg lifter that has now become the central control for adjusting both the seatback and leg lifter height. With just an easy pull of a strap, the seat back is lowered. Located in the front of the central controls is a mesh bag that can be used for storing the leg lifter handle, a water bottle, or other items that need to be accessible.
Phase 3 AirPro has taken kayak outfitting to a new level in ergonomics, ease of use, innovative materials, and custom adjustability. It's the kind of innovation that you would expect from Wilderness Systems.
Phase3 AirPro for Ride Advance and Ride Advance Angler: Paddlers are always looking for advancements in performance and comfort. The new elevated seat found in all Ride Advance and Ride Advance Angler models is just what they're looking for. With over 4" of increased height over the standard Ride seat, this Phase 3 AirPro elevated seat reduces the effort required to enter and exit the boat without sacrificing the paddling performance or stability that has made the Ride models legendary in the market.
Anglers and non-anglers alike can appreciate the flat surfaces at the rear of the seat, which can be used for attaching rod holders, safety lights, and cup holders, while a large opening tucked under the leglifter provides the perfect storage place for tackle boxes or larger items.
In addition to the increased comfort that comes from a more natural seating position, the Phase 3 AirPro Advance seat comes with all of the industry-leading features of our new outfitting system including breathable, ergo-comfort pads; a redesigned backrest with increased back support; improved ventilation; and, all the adjustments to insure all-day comfort on the water.
The Ride models just advanced to a whole new level of performance.
httpv://youtu.be/jkCcCLcdYTk
Image courtesy Wilderness Systems