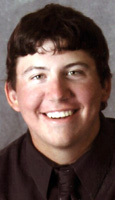 Colby Johnson is the new park superintendent at Lake McConaughy State Recreation Area (SRA) effective Nov. 1.
"I'm very excited," Johnson said. "I look forward to coming back to Nebraska and working with the people of Keith County."
Johnson was born in Ogallala and is a graduate of South Platte High School in Big Springs. He said he spent many days growing up fishing and boating at Lake McConaughy, the state's largest reservoir.
Johnson has been the assistant golf course superintendent for the Campbell County Parks and Recreation Department in Gillette, Wyo., since May. He graduated from the University of Nebraska-Lincoln with a bachelor of science degree in turfgrass and landscape management.
"We are confident Colby will do an excellent job as superintendent of Lake McConaughy SRA," said Roger Kuhn, parks division administrator for the Nebraska Game and Parks Commission. "Colby, being from the area, is familiar with the community and the lake, which will help to enhance good working relationships with our many partners in the area.
"Maintaining and improving Lake McConaughy as a major tourist attraction is a team effort, and Colby will be an asset to the team," Kuhn said.
Lake McConaughy is host to nearly a million visitors a year.
Image courtesy Nebraska Game and Parks Commission