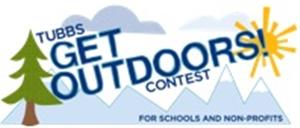 Tubbs Snowshoes, a global leader in snowshoes and snowshoe outreach, is excited to announce their "Get Outdoors" Kids' Contest. Open to Schools and Non-Profits nationwide, this new contest is designed to help kids and teen groups get outside and explore during the winter. Two winners will receive snowshoes for their entire class or group, snowshoes for the adult leaders, and will be provided the Winter Fit® for Kids Programming. Tubbs' Programming brings a fun educational aspect to discovering the winter landscape with step-by-step guidance for establishing snowshoe programs.
Entrants will be asked to submit an essay and explain in 500 words or less, what sets their classroom or group apart from other programs, why they feel their group should win and what they envision doing if they received the snowshoes.
"We're excited to provide these organizations with the necessary tools and resources to get youngsters out on the snow during the winter," said Sarah Rose, marketing manager, Tubbs Snowshoes.
Snowshoeing, one of the most accessible winter sports, is ideal for getting kids and teens outside when cooler weather sets in. "It's important to stay active in the wintertime and snowshoeing is great option because it's as simple as walking, and it's a fun way to explore the snow," said Rose.
In exchange for the snowshoes and programming, Tubbs will ask the winning organizations for a monthly trip report throughout the winter to share with the Tubbs community.
For specific details on the essay topic, winner selection and how to submit a contest entry please click here. Entries must be submitted by October 29th, 2012 for consideration.
Note: Contest only applicable to public or private schools and outdoor outreach non-profit, youth related organizations, elementary and middle school aged kids preferred. Each organization must be able to submit a Tax ID number.
Image courtesy Tubbs Snowshoes