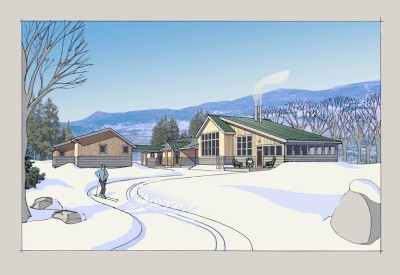 We are thrilled to announce the opening of our Stratton Brook Hut on December 21, 2012. Stratton Brook is the fourth of twelve planned backcountry huts and eco-lodges connected by 180 miles of trails in Maine's scenic Western Mountains region. This planned 180 mile connected, hut-to-hut trail will be the longest groomed ski trail in America.
The Stratton Brook Hut is located in Carrabassett Valley and provides excellent access to some of Maine's many 4,000 foot peaks. It will be the first hut within Maine Huts & Trails system to have an alpine setting, offering spectacular views of both the Carrabassett Valley and Sugarloaf Mountain. The hut will have ten rooms, four of which are private, and will sleep a total of 44 people. It will be accessible via a 3-to-4 mile trail from a new trailhead parking area off Route 27, just north of the Sugarloaf Access Road.
"The hut-to-hut system gives unprecedented access to one of the most scenic stretches of mountains, forests, lakes and waterfalls in the eastern U.S.  It has been specifically designed to make minimal impact on this region's outstanding natural resources ensuring it will be preserved and enjoyed for many generations," said Nicole Freedman, Executive Director of Maine Huts & Trails.
The Stratton Brook Hut was made possible by a generous donation from Clem and Rolande Begin, local residents and major supporters of Maine Huts & Trails.
All huts at Maine Huts & Trails feature best-in-class amenities and offer a variety of unique special events and activities such as hiking, mountain biking, canoeing and kayaking, fishing, skiing, and snowshoeing. Each hut features hearty, home-cooked meals using locally sourced organic ingredients; comfortable beds; bathrooms with hot showers and shuttles to take gear from hut to hut.
For more information and to book your stay please visit www.mainehuts.org or call (207) 265-2400. Book by December 15th to take advantage of Maine Huts & Trails' winter sale! Members can book weekday stays for just $49 and for non-members, $64, a savings of $20. Discount is good for visits made between December 21st and January 21st at all huts including the new Stratton Brook Hut. Guests must reference the "Winter2012" sale to take advantage of these limited-time savings!
Image courtesy Maine Huts and Trails