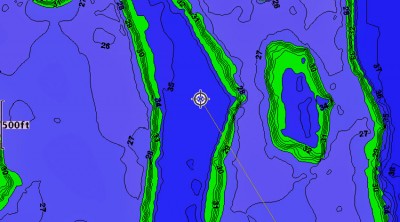 LakeMaster brings anglers nearly 200 lakes, more than 50% in HD
Never a company to rest on its laurels, LakeMaster is back at it again. As part of an aggressive plan to have coast-to-coast US inland and near-shore saltwater coverage with best-in-class digital fishing maps within the next couple years, their latest installment brings anglers 189 of the best fishing waters in Indiana and Ohio.
Of those 189, the LakeMaster Indiana/Ohio Humminbird Version 1 Card contains 109 high-definition (HD) lake maps, displaying lake bottoms in amazing, detail-rich 1-foot contours. The Barbee Chain, Monroe Reservoir, The James Chain, Tippecanoe, and Ohio's Mosquito Creek and Caesar Creek are only a start of the comprehensive lake list.
The card also contains numerous bonus waters, including Lake Pymatuning, Pennsylvania; ALL of Lake Erie; Lake St. Clair; Detroit River; St. Clair River; and Niagara River.
"Our goal is to bring anglers the most-detailed digital lake maps possible," says Dale Logue, brand manager, LakeMaster. "And the Ohio/Indiana region is but the first of several new cards that we'll introduce this year. Look for Kentucky/Tennessee, California/Nevada/Arizona, as well as more high-detailed maps for saltwater anglers.
To do this, LakeMaster spends a lot of time with boats in the water in those places where anglers actually fish, like shallows and bays and structure-filled areas.
"All of our engineers are anglers and know exactly what anglers expect out of a map," adds Logue.
Now exclusively offered for Humminbird products, LakeMaster digital GPS maps offer angler-friendly features unlike anything else on the market. These include easy-to-read contours, depth highlight, water level offset, shallow water highlight and a scrollable lake list.
In particular, fishermen across the country are singing the praises of three key features found only on LakeMaster digital GPS map cards. Here's why. Depth Highlight allows anglers to easily select and highlight any depth range to stay in the strike zone.  Water level offset makes it easy to adjust the chart to the current water level for accuracy and precision—and shallow water highlight is like lower unit insurance – easy-to-see shading highlights potentially hazardous shallow water.
But the features don't stop there.
"Combine LakeMaster maps with Humminbird sonar and Minn Kota trolling technologies like iPilot Link, and you have a complete fishing system that offers an exclusive feature to select and follow a contour line," says Logue.  "This is revolutionary and will change how anglers fish."
For more information visit LakeMaster at www.LakeMap.com, or contact LakeMaster, 59 East Broadway, Little Falls, MN 356345, or call 320-632-6300.
Image courtesy Traditions Media