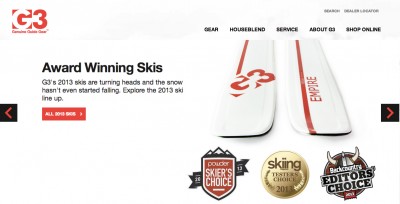 Making it easier for brand fans and consumers to navigate and learn about its products, G3, manufacturer of industry-leading skis and backcountry tools and accessories, this week launched a new web site and digital platform at www.genuinueguidegear.com.
The new site focuses on offering a clean, easy-to-navigate overview of G3 products, while simultaneously allowing consumers to dig deeper into product technology and specifications if they want to. The site also expands on brand-level storytelling features through an updated and integrated blog and social platforms.
Designed by VentureWeb, a full-service boutique digital agency based near G3 in Squamish, the redesigned interface also placed a premium on mobile compatibility. The new site delivers a full mobile user experience for both hand-held devices and tablets.
"At G3, we're always looking for more effective ways to interact with our customers and people who want to learn more about the brand, so updating our site to one that is readily available on many types of devices is one thing that helps us do that," said Oliver Steffen, founder and president of G3.
Additional features of the website include a new platform nicknamed The Clump, which integrates G3's social properties and unbiased media information about the brand. The Clump aggregates reviews, awards and videos about G3 products and athletes. Visitors to the site also can access the G3 Houseblend Blog, Facebook page, Twitter feed, Flickr photos, and videos on Vimeo and YouTube, as well as photos and videos that are hosted on the G3 site.
Finally, the new web site also offers direct sales capabilities via the G3 Warehouse, with a focus on making it easy to purchase a G3 product in the event a Canadian or U.S. consumer is looking for an item not immediately available through a local retailer.
Image courtesy Genuine Guide Gear