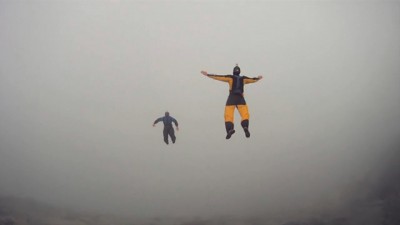 Witness incredible, jaw-dropping, nail-biting scenes in extreme adventure filmmaker Sebastien Montaz-Rosset's latest film scheduled to come out in November. Yet, it's still hard to decide which is better – the extraordinary daredevil stunts or the film production? Decide for yourself in the trailer for I Believe I Can Fly (Flight of the Frenchies) below.
I Believe I Can Fly follows high-lining pioneers Tancrede and Julien who have come to the cliffs of the Norwegian fjords to fulfill their extreme sports desires . They have already high-lined the skyscrapers of Paris, the alps, and more, now they wish to fly off cliffs untethered safety by ropes.
The film is available November 14, or it can be purchased to watch online at  www.sebmontaz.com.
I Believe I can Fly ( flight of the frenchies). Trailer from sebastien montaz-rosset on Vimeo.
Image screenshot of video by sebastien montaz-rosset on vimeo