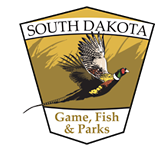 Final repair work in Pierre on the LaFramboise Island Causeway, which was extensively damaged by last year's Missouri River flooding, will be completed this Friday, Sept. 28.
That is one week ahead of schedule, according to Eric Stasch, Oahe Dam operations project manager for the U.S. Army Corps of Engineers.
The final cost of the LaFramboise Island Causeway repair project was a little more than $2.8 million; it took five months to complete.
The island will reopen to the public on Saturday, Oct. 6. Staff from the Department of Game, Fish and Parks will work on LaFramboise Island Oct. 1-5 to repair facilities and clear the trails of debris left from the 2011 flood.
The boat ramp will be open and usable by jet skis, canoes and kayaks only.
"We are confident we will have the main trails, including the River Loop Trail, Forest Loop Trail, and the Prairie Trail ready when the island opens to public use on Oct. 6," said Ryan Raynor, GFP district park supervisor.
The LaFramboise Island Halloween Hike will be held at Hilger's Gulch again this year and will return to the island next year.
As a part of the reconstruction, city crews replaced a 14-inch water main that connects four wells to the city's water system.
"This project has been a true example of cooperation between the Corps of Engineers, the contractors, GFP and the city of Pierre," said Pierre Mayor Laurie Gill. "All parties worked together to accomplish the work quickly and return this important asset to our community."
Logo courtesy South Dakota Game, Fish and Parks