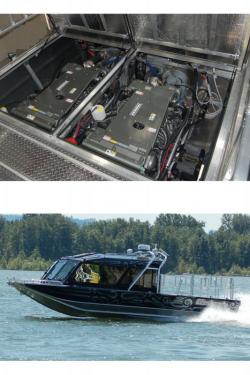 Navigating the treacherous Yukon River in remote areas of Canada demands a highly maneuverable boat with dependable power. To meet the challenge, Black Magic, a 28′ Regal by Precision Weld Custom Boats, runs twin Yanmar 8LV 370 hp diesels coupled with Hamilton 241 jet drives.
"Black Magic is the fastest boat we've built," said Precision Weld CEO Tom Maxfield after the sea trial. "The power is so impressive and instantaneous. One engine put this large, loaded boat on step to 40 mph. I had her up to almost 60 mph and the engines don't even seat until 40 hours." It's the first twin Yanmar 8LV installation on an aluminum boat, and Precision Weld already has an order for a second custom-built Regal with the same Yanmar configuration.
The need for a powerful, durable, long-range setup comes from the fact that Black Magic's owner is five hours by car from his remote worksite, but only 1-1/2 hours by boat on the Yukon. With the wide, braided river only 6″-8″ deep in spots, "it takes a very skilled navigator to run a boat through it," said Maxfield. "The owner wanted high performance engines, but also needed excellent range due to the long distances he travels.
"Not only are the Yanmar 8LV diesels extremely quiet and lightweight, but the fuel economy is great. The owner recently ran the boat at 40 mph, using a little over 8 gph on each engine, which is very good for a boat that size at that speed. I'm very, very pleased," he said.
With help from Yanmar's Northwest distributor, Cascade Engine Center, Maxfield said, "the engine install was smooth and straightforward." Precision Weld and Cascade have worked together for six years, with Maxfield noting that Cascade team members deliver fantastic support.
Yanmar's 8LV is an EPA Tier 3 compliant 4.46 L, twin-turbo, common rail V-8 diesel engine available in 320 hp and 370 hp models. Its dry weight of 992 lbs. is hundreds of pounds lighter than comparable engines, and maintains Yanmar's reputation for excellent horsepower-to-weight ratios.
The 8LV delivers the excellent fuel economy and durability for which diesels are known, with high-end performance similar to a V-8 gas model. A hydraulic clutch ensures smooth operation, while the turbochargers help achieve an exceptionally broad 550-3,800 rpm power range. Yanmar's own CAN-bus vessel control system (VCS) simplifies all controls, using full-color digital displays with NMEA2000 or J1939 output, cabling and wiring.
For long trips away from home aboard Black Magic, creature comforts include a 12V refrigerator, two-burner diesel cooktop stove, cabin heater and hot-water shower. A solar panel keeps the house batteries charged. The rear deck has a swinging gate for loading a quad-runner by ramp.
Images courtesy Martin Flory Group/Precision Weld Boats