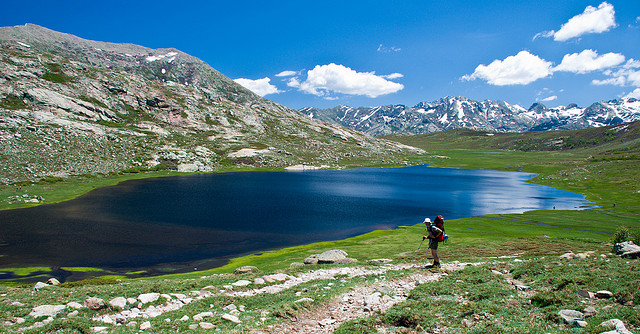 While the GR 20 is highly regarded as one of Europe's most popular and most beautiful trails, it is also one of the most challenging there is. Jagged rocks line the route, the elevation is constantly changing and exposed ridgelines and deep valleys beckon the adventurous to stare into the mouth of the tiger.
The hiker who took the video embedded below goes by the username hugsforhikers on vimeo. In his write-up about the making of the film, he discusses the beauty of the trail, but also the dangers. He said refuges, or huts, were sometimes closed because of potential forest fires, hikers were rescued from swollen rivers and droughts, storms, flooding and ice made filming far away from huts very difficult.
Don't be scared in anticipation of these conditions since they are unusual occurrences. The area experienced some of the strongest rainfall in 100 years during the time the hiker was there.
GR20 – One Step At A Time from hugsforhikers on Vimeo.
Image from Jean-Baptiste Bellet on the flickr Creative Commons