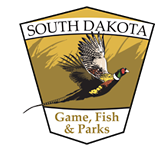 The Buffalo Roundup at Custer State Park has been a South Dakota tradition for 47 years.
On Monday morning, park staff will once again gather the buffalo in order to sort, brand and vaccinate the herd in preparation for the fall buffalo Auction. Custer State Park's annual roundup helps the park maintain a healthy balance between the number of buffalo and the available rangeland forage.
The 2012 Buffalo Roundup begins at 9:30 a.m. MDT on Monday, Sept. 24, near the corrals along the Wildlife Loop Road. The parking areas open at 6:15 a.m. and close at 9 a.m.
In the past, the Buffalo Roundup has been held on a Monday, but next year there will be a change. In 2013, the Buffalo Roundup will be held on Friday, Sept. 27, and the annual Arts Festival in Custer State park will extend through Sunday, Sept. 29.
Image courtesy South Dakota Game, Fish and Parks