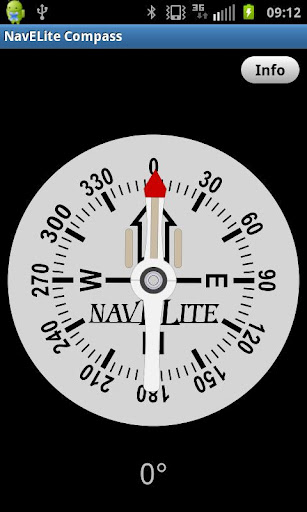 Inspired by the NavELite Wrist-Worn, Backlit ­Magnetic Compass (BLMC), the New Android App is Now Available for FREE Download from Google play
NavELite, a global provider of backlit magnetic compasses, has unveiled a new NavELite Compass Android application available to Android devices version 2.2 and up. Inspired by the NavELite Wrist-Worn, Backlit Magnetic Compass, the NavELite Compass app provides basic compass functionality using the Android device's magnetometer. There are two lighting modes showing a daylight (white) face and needle of the compass and an "illuminated" (blue-green) face and needle that simulates the electroluminescent technology. The magnetic heading is displayed and the compass dial can be rotated to orient the Android device to the direction of travel. The  NavELite Compass app is available for download for FREE through Google play.
The NavELite BLMC can be purchased online at www.NavELite.com for a retail costof $79.99. Dealers interested in carrying the NavELite BLMC may contact [email protected]  for a Dealer Package and Application.
Image courtesy Laura Burgess Marketing/NavElite