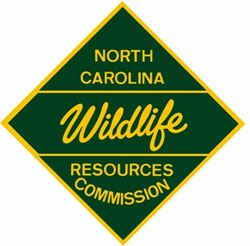 With simultaneous snips from five pairs of scissors, the N.C. Wildlife Resources Commission and Onslow County cut the ribbon today to celebrate the new Sneads Ferry Boating Access Area.
The boating access area is located at 302 Fulchers Landing Road in Sneads Ferry. It allows boating anglers to launch onto the New River, providing access to both fresh and saltwater fishing opportunities.
"The Snead's Ferry Boating Access Area is popular with fishermen headed out to the inlet to fish offshore, but many also stay inshore to fish for speckled trout, flounder, puppy drum and other species," said Erik Christofferson, chief of the Wildlife Commission's Division of Engineering Services. "We are grateful for the partnerships that allowed us to renovate this popular site on the New River."
The partnership between Onslow County and the Wildlife Commission came up with the $2.68 million needed to cover the total cost of the Sneads Ferry Boating Access Area project. Onslow County received a Waterfront Access and Marine Industry (WAMI) grant of $2,013,500 to purchase the property for the state. The Wildlife Commission received a $40,000 WAMI grant and motorboat registration receipts for construction costs.
North Carolina Representative Phil Shepard said the decision to work with the Wildlife Commission was easy.
"I come down here quite a bit and so I saw them working on the project as it progressed," he said. "These guys are so meticulous about everything in this project. They are a real credit to the Wildlife Commission."
The joint ribbon-cutting ceremony marks the culmination of a two-phase renovation and construction project. Phase one included removal of underground storage tanks and contaminated soils, as well as demolition of existing buildings. In the second phase, Wildlife Commission engineers and construction crews built and installed the new boating access area infrastructure.
The 1.8-acre boating access area has two launch lanes, along with three floating docks. The paved main parking lot and gravel overflow parking area feature 37 vehicle-trailer spaces and 11 single-car spaces, including three handicapped-accessible parking spaces.
Logo courtesy North Carolina Wildlife Resources Commission