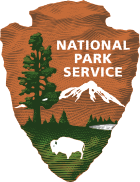 Student and faculty design teams from the City College of New York and Rutgers University were honored Wednesday evening for their work in Parks for the People: A Student Competition to Re-imagine America's National Parks.
After viewing the design projects, National Park Service Director Jonathan B. Jarvis said, "I came to this exhibit wondering 'Did they get it?' and the answer is yes, they got it. These sophisticated, creative, insightful proposals push us to reassess many of our long-held assumptions of how national parks are managed. They offer us new ways to move forward into our second century of serving visitors and caring for our nation's treasured natural, cultural and historic resources."
Denise Hoffman-Brandt, director of the landscape architecture graduate program at CCNY's Bernard and Anne Spitzer School of Architecture and Kathleen John-Alder, assistant professor of Landscape Architecture of Rutgers' School of Environmental and Biological Sciences accepted "Awards of Excellence" from Director Jarvis, Stephen Cassell, Chair of Van Alen Institute's Board of Trustees and competition advisory committee members Nette Compton, director of Green Infrastructure, New York City Department of Parks and Recreation; Susannah Drake, principal, dlandstudio; Steven Handel, professor, Department of Ecology, Evolution & Natural Resources, Rutgers University and William Morrish, dean, Parsons School of Constructed Environments.
The awards were presented during the opening of a six-week exhibit of the finalists' work at the Octagon Museum of the American Institute of Architects' Legacy Foundation in Washington.
The Rutgers design team explored Hopewell Furnace National Historic Site near Philadelphia as a case study in how to visualize and represent change over time. The team proposed 14 ideas that reveal new links between Hopewell's past and its future. United by a trail system connecting to the surrounding preserve and state park, these elements integrate cultural and natural history with new opportunities for recreation and landscape management. Instructive detours through the history of extractive manufacturing and the Underground Railroad would add richness to the cultural narrative while a highly pragmatic forest maintenance and restoration scheme helps to preserve and repair the landscape. This vision for Hopewell looks toward social sustainability as well: a branding exercise that includes mobile phone applications and an inner-city wall mural creatively connects the park to its future stewards.
The CCNY team began with the belief that Nicodemus National Historic Site in rural Kansas is only relevant as long as it remains tethered to the lives of its nation-spanning descendants. Finding that more visitors will likely encounter this small town online than in person, the studio boldly proposed the Nicodemus Web, a model that sustains the site through myriad relationships within and outside its resident community. Analyzing this network through dynamic visual devices such as partnership wheels, narrative maps and logic trees, the studio sought to strengthen the interpretative scope of Nicodemus in the context of other African American and westward expanding settlements across the country. In Nicodemus itself, three plans for civic improvements – tailored to park visitors, town residents, and descendants – sensitively combine interpretative features, commemorative trails and other elements that affirm Nicodemus as a continuum of still-living history.
Parks will take the recommendations forward from the competition. "You have inspired us all," Jarvis said. Hopewell Furnace has adopted many of the project ideas in a draft of its next general management plan. Nicodemus National Historic Site staff said they are anxious to utilize the CCNY recommendations and move forward with Nicodemus descendents.
The design finalists in addition to CCNY and Rutgers were Cornell University, Florida International University, Kansas State University, Pratt Institute, Rice University, the University of Pennsylvania and the University of Washington. Their studio sites are the Civil War Defenses of Washington, Chattahoochee River National Recreation Area, Biscayne National Park, Valles Caldera National Preserve and San Juan Island National Historical Park.
Forty-one student and faculty teams from 35 colleges and universities entered the competition a year ago. The field was narrowed to nine schools last December, and those teams visited select national parks to explore the unique challenges of the 21st century visitor experience.
The Parks for the People competition grew out of the 2008 Designing the Parks conference sponsored by the National Park Service, Van Alen Institute, The Cultural Landscape Foundation, Golden Gate National Parks Conservancy, The Institute at the Golden Gate, National Parks Conservation Association, University of Virginia and the George Wright Society. The conference also produced six principles that future park planning and design must demonstrate: a reverence for place, engagement of all people, expansion beyond traditional boundaries, sustainability, informed decision-making, and an integrated research, planning, design and review process.
The Van Alen Institute and the National Park Service assembled the national design advisory committee to shape the competition and judge the entries.
The competition called on student and faculty teams to use design as a catalyst to re-imagine America's most spectacular public places. To do that, teams focused on one park site, provided opportunities for interdisciplinary collaboration, developed community partnerships, and envisioned a new generation of healthy, welcoming, and enduring national parks.
Finalist design proposals will be on display at the Octagon Museum's gallery space through mid-November and will also be exhibited online.
Logo courtesy National Park Service