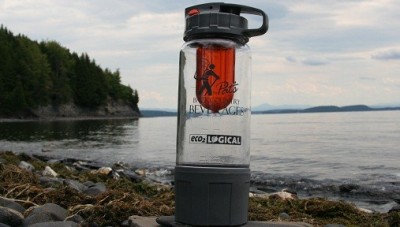 When asked if he likes good beer, Patrick Tatera unabashedly admits, "Oh yeah, I'm a bit of beer snob." So much so that when he was 23 years old, he and his friend were backcountry camping in the Canyon Lands Park south of Moab, Utah, at the mouth of the desert. They had craft beer chilling in their car at the trailhead and decided to pack up camp from their remote starry-lined horizon and sleep out of the car just to be able to enjoy the beer while it was still cold.
That's when the idea to easily carry cold, carbonated beer into the backcountry was born. Fast forward 15 years and his idea has nearly come to fruition. This week, his company – Pat's Backcountry Beverages – launches its first line of products in stores, although BCB will only be selling sodas, not beer, for now.
For years, 38-year-old Tatera, who has a background in chemistry and chemical engineering, wanted to combine his love of the outdoors with the pleasure of drinking a tasty beverage in the backcountry miles away from a refrigerator and where it's nearly impossible to lug a cooler with ice and full beer bottles.
Similar to seltzer bottles that have been around for decades, the Carbonator Bottle carbonates beverages using an effervescent reaction. You do not load it with CO2 cartridges like paint-ball guns, which make the Carbonator easy to fly with if you're traveling long distances before you get to your destination. Carbon is produced by mixing water with a packet of powder which BCB sells as eco2Activator.
View the video below to see how the system works.
httpv://youtu.be/MLkjZ_RMeKA
By adding a flavor packet to the mix, users can make a number of flavored, carbonated beverages. Currently, BCB only sells soda flavor packets (which are made with cane juice, no preservatives and added vitamins), while his beer flavor packets won't hit shelves until licensing to sell alcohol has been cleared. He hopes to start selling the beer sometime in 2013.
When we spoke on the phone, Tatera said his products with soda flavors are literally in transit and he is just waiting for stores to put them on the shelf. Needless to say, his store-locator page will be updated soon. The Carbonator Bottle just by itself will be available for $29.95. A Carbonator Kit, which includes the bottle, six packets of eco2Activator powder and five packets of soda flavor, will be available for $39.95. Refills of soda flavor and activator packets will be available as well.
"I wanted a price point that compares to other water bottles on the market, but which comes with the added functionality that goes above and beyond other water bottles," Tatera said.
He said he knows there will be millions of skeptics out there who say, "Oh god, this thing is going to taste terrible." Yet, being a beer snob himself. Tatera is convinced they'll be amazed. He put his product to the test in a blind taste-testing. His Carbonator Bottle-made recipe was put up next to a beer of the same recipe, brewed in a traditional manner. The tasters didn't know the difference.
When the launch of the beer comes, which will likely be sold in liquor stores and not the average outdoor recreation products store, Tatera will begin by selling a pale ale then eventually expand to IPAs, pilsners, stouts and so forth. Just like the sodas, the alcoholic beer will be sold as pasteurized syrups, not as powders.
Image courtesy of Patrick Tatera