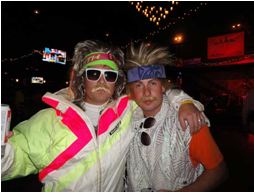 For the third year in a row, the E.P.I.C. Foundation has chosen First Descents, a Denver-based non-profit providing free outdoor adventures to young adults fighting and surviving cancer, as the beneficiary of the 80's Ski Party. This year, the 9th Annual 80's Ski Party is set for October 19 at the Mile High Station in Denver, Colorado from 8pm to 2am. Each year, this ski season kick-off party brings out skiers from across the country in their finest 1980's fashion to raise funds for a worthy cause.
Last year, the 80's Ski Party raised more than $25,000 for First Descents. As in years past, the money raised this year will go toward sponsoring young adults as they spend a week with FD surfing, climbing or paddling beyond their diagnosis.
What: 9th Annual 80's Ski Party
Where: Mile High Station at 2027 W. Colfax Ave., Denver, CO
When: Friday, Oct 19th – 8pm-2am
Cost: $50 in advance – ($60 within two weeks from event date)
"We're so grateful to the E.P.I.C. Foundation and everyone who dons those side ponytails and fluorescent ski suits. Events like this have helped First Descents raise the funds to triple our number of programs in the last two years," says First Descents Director of Marketing, Rebekah Koenigbauer.
"First Descents continues to be a natural fit for the party. The E.P.I.C. Foundation is all about inspiring people to reach their physical and intellectual challenges and First Descents shares that mission," says Brad Rettig of the E.P.I.C. Foundation.
Beer and Food is included in the price of the ticket. Partiers not adorned in radical 80's attire will not be admitted. For more information or to purchase tickets, please visit www.80skiparty.com.
Image courtesy First Decents