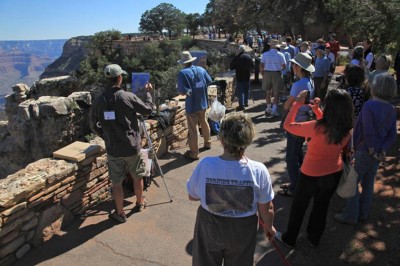 The Grand Canyon Association celebrated art at Grand Canyon with the exhibit opening of the 4th Annual Celebration of Art this weekend. Friday, September 14th marked the culmination of a week of 26 artists painting plein-air capturing views on the South and North rims and for the first time, in Grand Canyon at Indian Garden and Phantom Ranch.
"One of our goals as an agency is to help park visitors connect to parks and the resources they protect," said park Superintendent Dave Uberuaga. "At Grand Canyon National Park, where our visitors speak many different languages, the universal, wordless language of art allows people to connect to the Grand Canyon in new ways without saying a word."
In addition to the 26 studio pieces the artists had submitted in advance of the event, the artists painted a total of 278 pieces for sale and display at Kolb studios. In the first weekend, art sales resulted in over 25% more than opening weekend last year. Proceeds from this event will support the goal of funding an art venue at the South Rim of the Grand Canyon. This permanent home will ensure that future generations of park visitors will be able to view the stunning art collection in the Grand Canyon National Park Museum and Grand Canyon Association Collections.
"It is exciting to see so many people interested in the fine arts at Grand Canyon," says Susan Schroeder, Executive Director of Grand Canyon Association, "We love to see the enthusiasm grow each year and look forward to the day when there is a permanent place to house a permanent collection."
The week provided some challenging rainy weather, but included many opportunities to watch artists paint in the open air and afternoon artist's demonstrations. Friday morning featured a 2 –hour "Quick-Draw" event followed by an auction of those paintings.
The following awards were presented to artists:  Grand Canyon Association and Jack Dudley Purchase Award to John Cogan of Farmington, NM for his painting Out of the Depths; People's Choice Award to Williamson Tapia of Sedona, AZ and Artists' Choice to Bill Cramer of Prescott, AZ. The exhibit and sale opened at Historic Kolb Studio on Saturday, September 15 and will remain open to the public until November 25th.
Please visit our website for information and updates at http://www.grandcanyon.org/celebration.asp.
Image courtesy Grand Canyon Association