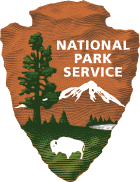 National Park Service Director Jonathan B. Jarvis today named David Vela as the Associate Director for Workforce Management.
As associate director, Vela will manage Human Resources, Learning and Development, and Equal Employment Opportunity programs affecting all employees of the National Park Service (NPS).  He will ensure that the NPS has the people with the right skills, at the right place and time to carry out the mission.  Vela will integrate these functions to facilitate a more holistic approach to providing resources and support to managers and supervisors in developing their employees.
"I am excited to have David on my senior management team in Washington, DC," Jarvis said. "David has a great blend of experiences within the National Park Service and in outside organizations.  He also has a proven record of achievement in managing large and complex field operations.  In addition to his existing portfolios, I have asked that he incorporate relevancy, diversity, and inclusion interests within his new organization.
David's expertise in diversity and workforce management will help us as we move forward into our second century" said Jarvis.
For over four years, Vela served as the Regional Director for the Southeast Region of the National Park Service.  The Southeast Region includes three of the top 10 most visited attractions in the National Park System, and welcomes approximately one-fourth of all visitors to America's national parks.  As Regional Director, Vela provided leadership for 66 park units located in nine states, the U.S. Virgin Islands, and Puerto Rico.  He was responsible for leading more than 3,100 employees and managing a budget of over $240 million annually.
Vela began his NPS career in 1981 as a Cooperative Education Student at San Antonio Missions National Historical Park, and later served as a permanent Park Ranger.  He transferred to Appomattox Court House National Historical Park in 1984 to serve as a Supervisory Park Ranger.  In 1986, he moved to Independence National Historical Park in Philadelphia where he served as a District Ranger.
From 1987 to 1998, Vela worked as a Special Agent with the U.S. Department of Health & Human Services, Office of Inspector General, performing white-collar criminal investigations in New York and New Jersey.  He also served as a Special Assistant for Hispanic Affairs to the late U.S.
Congressman Mickey Leland, worked as a Federal Investigator with the U.S.
Equal Employment Opportunity Commission, and was appointed as the Director of the Texas Child Support Program by the Attorney General of Texas in 1996.  As Director, Vela was responsible for a statewide operation consisting of over 70 field offices with 2,400 employees.
Vela returned to the National Park Service in 1998 as Superintendent of Palo Alto Battlefield National Historic Site in Brownsville, Texas.  In 2002, he was appointed as Texas State Coordinator for the NPS Intermountain Region.  After serving as Superintendent of Lyndon B. Johnson National Historical Park, Vela was named Superintendent of the George Washington Memorial Parkway in May 2006.
"I am extremely grateful to be given the opportunity to serve as the Associate Director for Workforce Management" Vela said. "I look forward to serving the needs of our incredible NPS workforce while helping to ensure that America's best idea becomes relevant to all individuals, and is experienced by current and future generations to come."
Vela holds a Bachelor of Science Degree in Recreation and Parks from Texas A&M University.  He graduated from the U.S. Department of the Interior Senior Executive Service Candidate Development Program in May 2006.  David and Melissa Vela have been married for 32 years, and they have two children Christina and Anthony.  They also have four grandchildren.  Melissa, Christina, and Anthony are also graduates of Texas A&M University. Anthony is an NPS law enforcement ranger.
Logo courtesy National Park Service