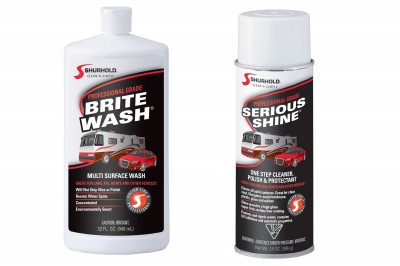 When an RV needs a superior shine, Shurhold's dynamic duo of Brite Wash and Serious Shine can deliver.  Together, these high-quality products get rid of surface dirt and add a protective coating.
Brite Wash is scientifically formulated to clean fiberglass, clear coat, metal, rubber and painted surfaces.  It cleans dirt, grease, salt and more without dulling a finish or stripping wax or polish.  Brite Wash resists water spots.  This concentrated formula is also environmentally smart.
Serious Shine cleans, polishes and protects virtually any solid surface in one easy step.  It is great for cleaning vinyl seating, dashboards, electronic touch screens, glass, clearcoat, wheels and tires.  Without leaving behind any greasy, artificial residue, Serious Shine's unique formula provides high gloss and a coating that repels water.  It also contains UV inhibitors and anti-static properties.
Shurhold's Brite Wash costs $11.98 for 32 oz, while Serious Shine costs $17.98 for a 14 oz aerosol can.
Shurhold is dedicated to educating owners on RV value preservation.  Inventor of the One Handle Does It All system, Shurhold manufactures specialty care items and accessories to clean, polish and detail.
Image courtesy Martin Flory Group/Shurhold