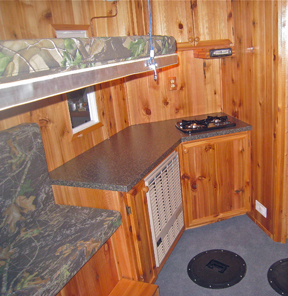 Its upwards of a decade now since mobile shelters – colloquially know as 'fish-houses-on-wheels' or 'wheeled-shelters' – busted onto the ice fishing scene. The full-featured luxury pads have forever changed the icescape. Now, hardwater anglers can take the creature comforts of a well furnished cabin on the frozen lakes, and easily relocate whenever the bite fades or word travels that another body of water is on fire.
As with most industries and trades, though, quality is job one at the onset, but soon thereafter others join the game bringing far inferior and lower priced versions. It happened with mobile shelters as well. Brands crawled out of the woodwork, most dragging down the integrity of the category – save Custom Cottages. Since the architectural designers at Custom Cottages introduced their first mobile palace, being the best has been a perennial promise.
Company CEO and chief designer Eric Bongard compares his product to another industry leader. "Custom Cottages are to mobile shelters and ice fishing what Featherlite Trailers are to horseback riders and livestock farmers. They're lighter, stronger and longer lasting than the competition – same goes for Custom Cottages."
'Lighter' is a good start for making the Custom Cottages case. Weight is perhaps the number one consideration for hauling onto and traversing frozen waters. Literally, Custom Cottages are hundreds of pounds lighter than similar sized mobile shelters. Where others might sink in slush or get hung up on a snowdrift, Custom Cottages pilot across the surface without looking back.
That same lightness is what makes these premium mobile shelters stronger, too. Sound counterintuitive? Not really, because Custom Cottages are founded upon 100% welded aluminum frames – lighter and stronger. Lesser shelters use steel and wood, so are virtually guaranteed to rust and rot. And that claim can be substantiated by Bongard, as he's repaired the ills of dozens of units from other manufacturers.
Now hitting critical mass, we cover the topic of raising and lowering a mobile shelter. The price-point adaptations rely on cranks, cables, pulleys…and prayers. Inevitably, there'll be a failure, or worse, fractured mandibles as an errant handle spins backwards and takes out the operator. (Easily visualized with a collective cringe.) All Custom Cottages, conversely, employ foolproof electric jacks with built-in leveling systems. Save those fingers for fishing…
The upsides of owning a Custom Cottage read like the Iliad or War and Peace – long but profound. So your best bet is contacting the craftsmen and begin authoring your own personal Custom Cottage.
Size and floorplan options downloadable as PDFs from the Custom Cottages website.
Image courtesy Custom Cottages