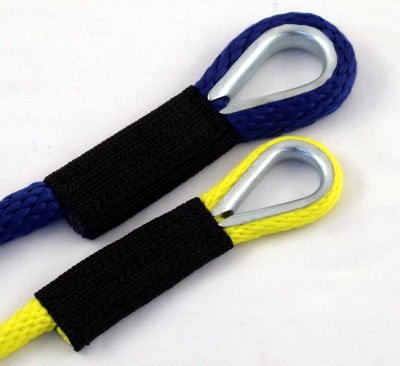 A good rope makes boaters feel safe and secure when anchored.  Manufactured from multi-filament polypropylene rope, Soft Lines' Anchor Lines are softer and more flexible than nylon anchor lines.
These Anchor Lines are offered in many different colors and in lengths of 50′, 100′, 150′ or custom sizes to fit any boating need.  The rope is also available with 3/8″, 1/2″ or 5/8″ diameters.
Lightweight and easy to clean, they will stay pliable and won't sliver like other lines on the market.  Soft Lines' Anchor Lines also release knots easier than nylon or cotton ropes.  Strong, hand-sewn webbing connections make the lines durable, while galvanized steel thimbles keep them secure.
Prices for Soft Lines' Anchor Lines start at $35.  Free personalization is offered with every order.  Wholesale pricing is available.
Soft Lines, Inc. manufactures rope products for the marine, pet, horse, hunting and related markets.  Using soft multifilament polypropylene rope in a variety of colors and diameters, it custom manufactures its products to specifications.
Contact Soft Lines, 422 Third Street W, Ashland, WI  54806.  715-682-3774; Fax: 715-682-3775.  S[email protected]; http://softlinesinc.com.  Soft Lines is looking for sales reps.
Image courtesy Martin Flory Group/Soft Lines