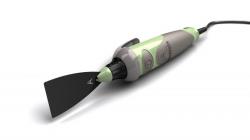 Ridding a hull of barnacles and other stubborn fouling is no longer an onerous task with the new Waveblade. This handheld, submersible power tool from Wavecraft USA uses vibration to quickly and safely remove marine growth from virtually any surface.
A patented mechanism generates the Waveblade's gentle but powerful multi-dimensional agitating movement. It lifts off fouling with little user effort. Unlike friction-removal methods such as scraping or pressure washing, it leaves underlying surfaces undamaged, including bottom paint.
The Waveblade runs off standard 12V DC power, draws only 3.2 amps, and can connect to a 110V converter. It's certified for operating up to 15′ underwater, with the attached 45′ cord allowing for plenty of reach on even deep draft hulls.
This innovative product is safe for use on fiberglass, wood, steel, aluminum, plastic, PVC, gel coat and inflatables materials. It also cleans propeller shafts, outdrives, rudders, keel coolers and bow thrusters. The Waveblade even removes marine growth from concrete foundations, underwater piping, steel structures, or all types of pilings and docks.
Designed for user comfort, the Waveblade features an ergonomic grip. An aluminum knuckle guard protects against injury from sharp marine growth, while a sensitive-touch switch prevents hand fatigue. A lanyard attachment point simplifies retrieval if dropped and enables easy hanging for storage. Little maintenance is required beyond a fresh water rinse after use and periodic replacement of a small foam boot under the unit's locking collar.
Accessories for the Waveblade include a 3″ multi-purpose blade for bulk removal on large flat surfaces. A plastic guard on the 3″ delicate surface blade protects vulnerable places such as soft wood, silicone coatings or glass bottom boats. The half-round blade tackles small diameter structures like shafts, anodes and hydraulic lines. A flat chisel blade squeezes into small, hard-to-reach spaces around trim tabs and keel coolers. The blades are easily switched and available in black steel for dry use, or stainless steel for underwater use.
In addition to its versatility, the Waveblade is highly cost-effective. For less than the price of an annual haul-out, a Waveblade provides multiple in-water hull cleanings. Keeping a boat's hull and propeller free of marine growth contributes to its fuel efficiency as well.
Retailing at $399, the Waveblade pack includes a 3″ black steel blade, a black steel flat chisel blade, replacement foam boots, safety glasses, safety gloves and a convenient carry bag.
Image courtesy Wavecraft USA