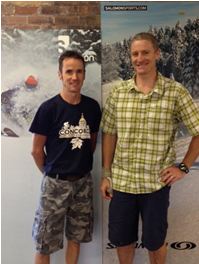 Salomon USA's Winter Sports Equipment Sales Director, Erik Anderson, announces the appointment of the Tyrol Sports Group as New England Territory Sales Representatives.
The Tyrol Sports Group, consisting of Bruce Diehl and Patrick Ruane will lead the charge in promoting the Salomon Alpine, Nordic, and Protective categories in the six New England states.
Bruce Diehl has shown his commitment to the Salomon brand in New England over the last 15 years. Prior to that, Bruce was living in Steamboat, CO, employed as a ski instructor by day and ski shop technician by night where he "learned that Salomon bindings were far superior to all others." According to Diehl, "Salomon has been a major part of my life for the past 20 years and it's hard for me to imagine myself anywhere else. I have never felt more positive about the future of the brand than I do right now."
Patrick Ruane joined Salomon in 2004 and has quickly developed a reputation as one of the pillars of Nordic knowledge in New England. Previously, Ruane spent 12 years working for a specialty snowsports retailer in New Hampshire. Today, he is "looking forward toward this new challenge and a great future with Salomon."
"I'm very excited to have Bruce and Patrick taking the lead for Salomon in New England," said Erik Anderson, Winter Sports Equipment Sales Director for Salomon USA. "There was a high degree of support for them from the New England dealers and I'm confident they are the best team to support and service our retail partners in New England. I've had a unique perspective during our interview process; having been a hardgoods buyer in New England, I've had the opportunity to evaluate each of our candidates from the first person, customer perspective. In reality, the interview process took place over the course of several years and multiple buying cycles."
Tyrol Sports Group will begin servicing Salomon's New England dealer base effective immediately.
Bruce and Patrick both enjoy alpine and Nordic skiing, backcountry touring, and competitive cycling.
Image courtesy Saloman USA